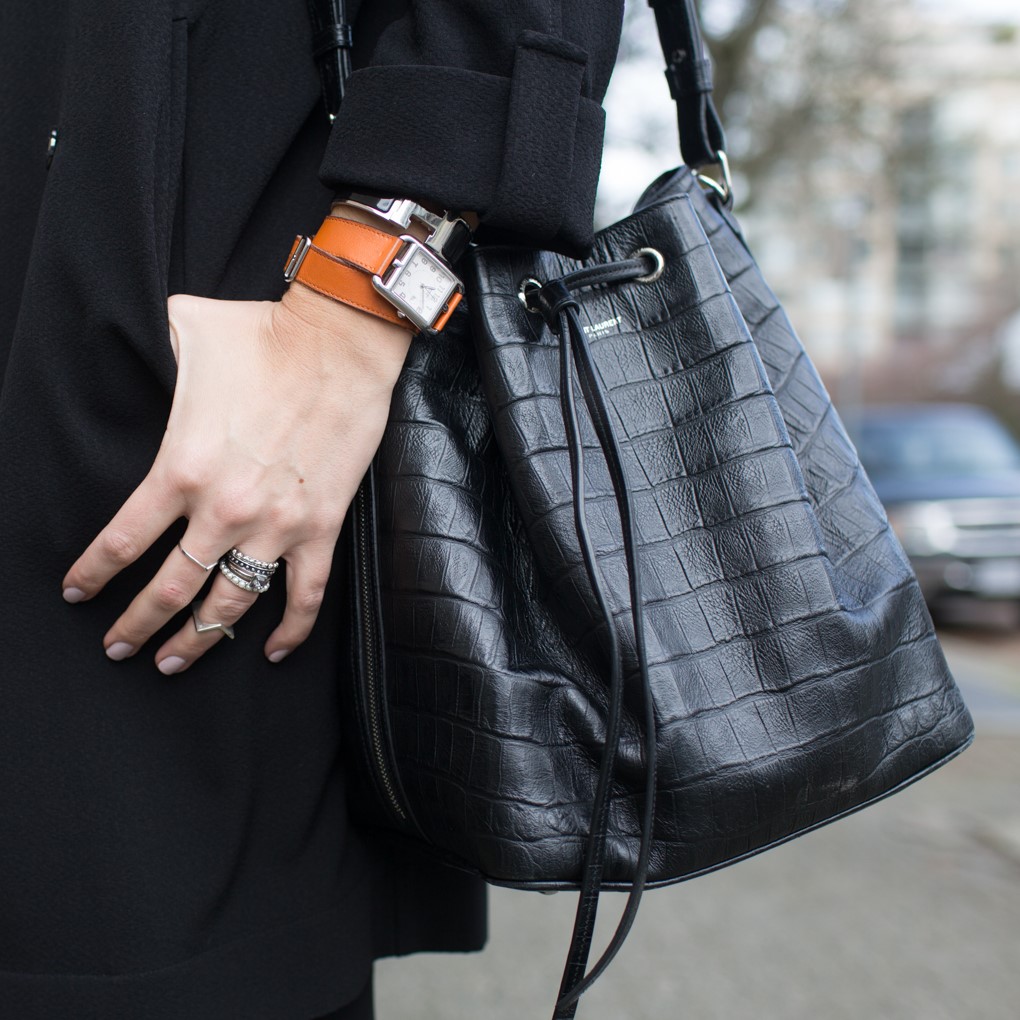 All Black, Because It's Raining.
The start of a new week and endless possibilities. This week my schedule is full and if I accomplish things like getting Stella to bed on time, laundry and perhaps exercise- it will be nothing short of a miracle. I was going to post something on colour and statement coats. But it looks like it will be raining all week and I like to wear a lot of black when that happens. Nothing wrong with wearing black. It's a fashion love affair of mine and like a lot of my clients, we have quite a bit of it in our closets.
I am wearing a light black coat from Topshop, Etre Cecile T-Shirt, Frame Denim Ripped Jeans, Acne Comet Boots, Saint Laurent Bucket Bag, Ray Ban Sunglasses. I wasn't really talking on the phone here (just in case you were wondering) I rarely talk, don't we all just text now?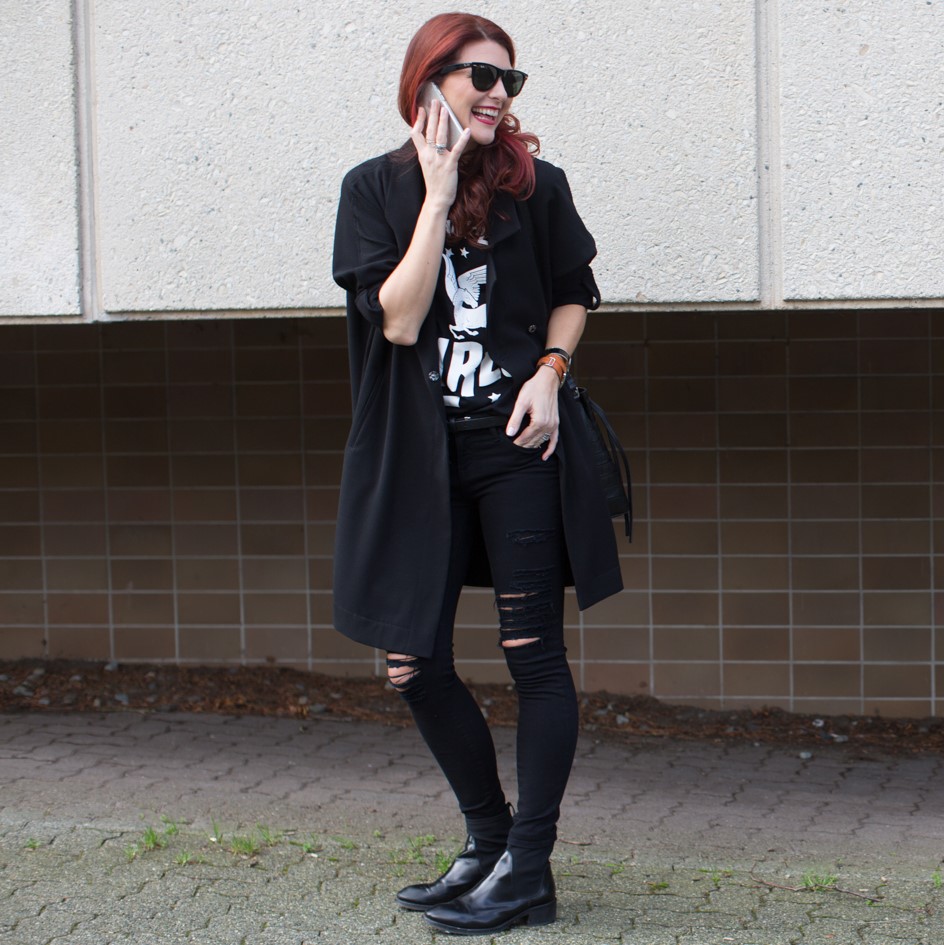 Acne Comet Boots. Had these for awhile and I love the simplicity of them. They are also really comfortable.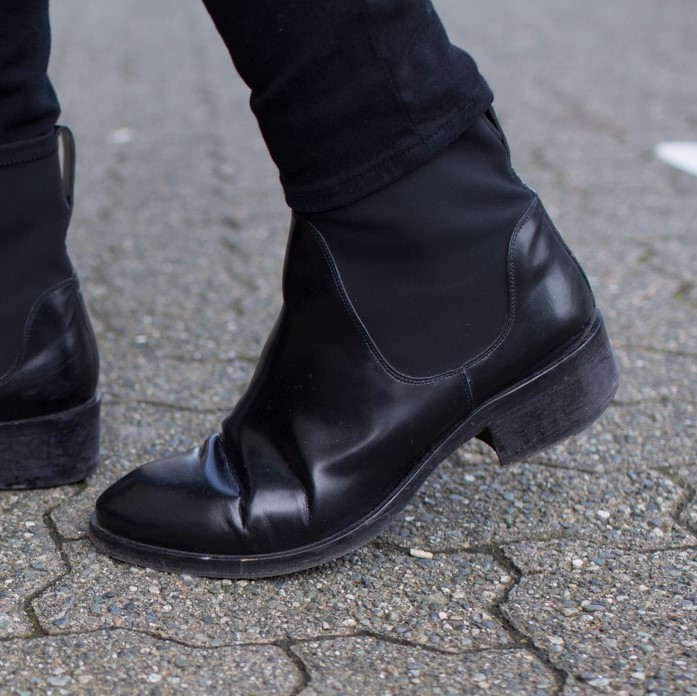 Love the Etre Cecile brand of t-shirts. The wearablity of this brand is something that I have long admired. Inspired by "the cleanliness of French style", it is essentially a cool luxury t-shirt brand. You can find them at The Hudson's Bay and on-line. AND I am in love with my Frame Ripped Jeans– I blogged about them in a post a few weeks ago and look it's true- I wear mine all the time.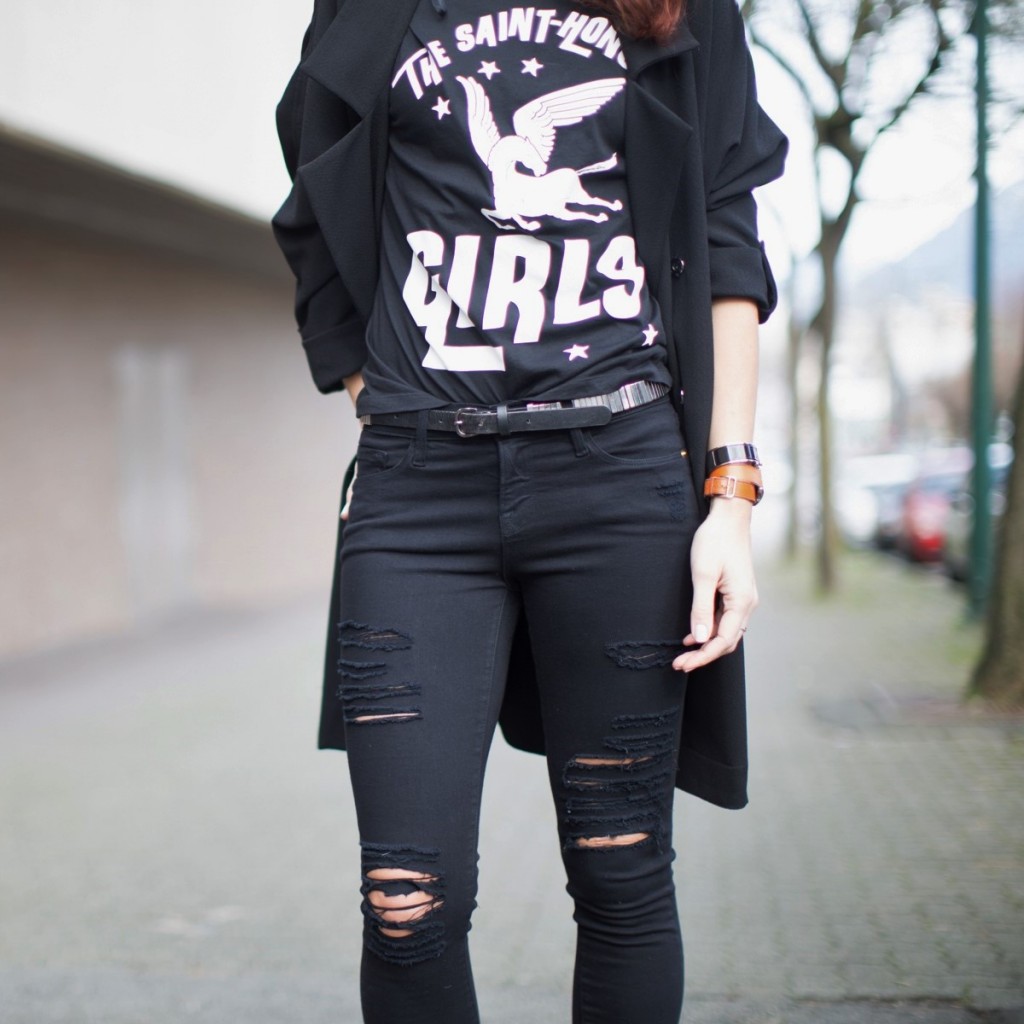 This is my lovely Saint Laurent Bucket Bag. I searched high and low for the perfect bag and this is what I found- it is a great everyday bag. I also wear my Hermes Cape Cod watch pretty much everyday. I believe in signature pieces that stay with you for the test of time. When you invest in the right items you don't need many, just a few that will last a lifetime. I like to wear many bracelets on the same wrist, the Hermes double strap is a perfect watch to wear with other bracelets or on it's own.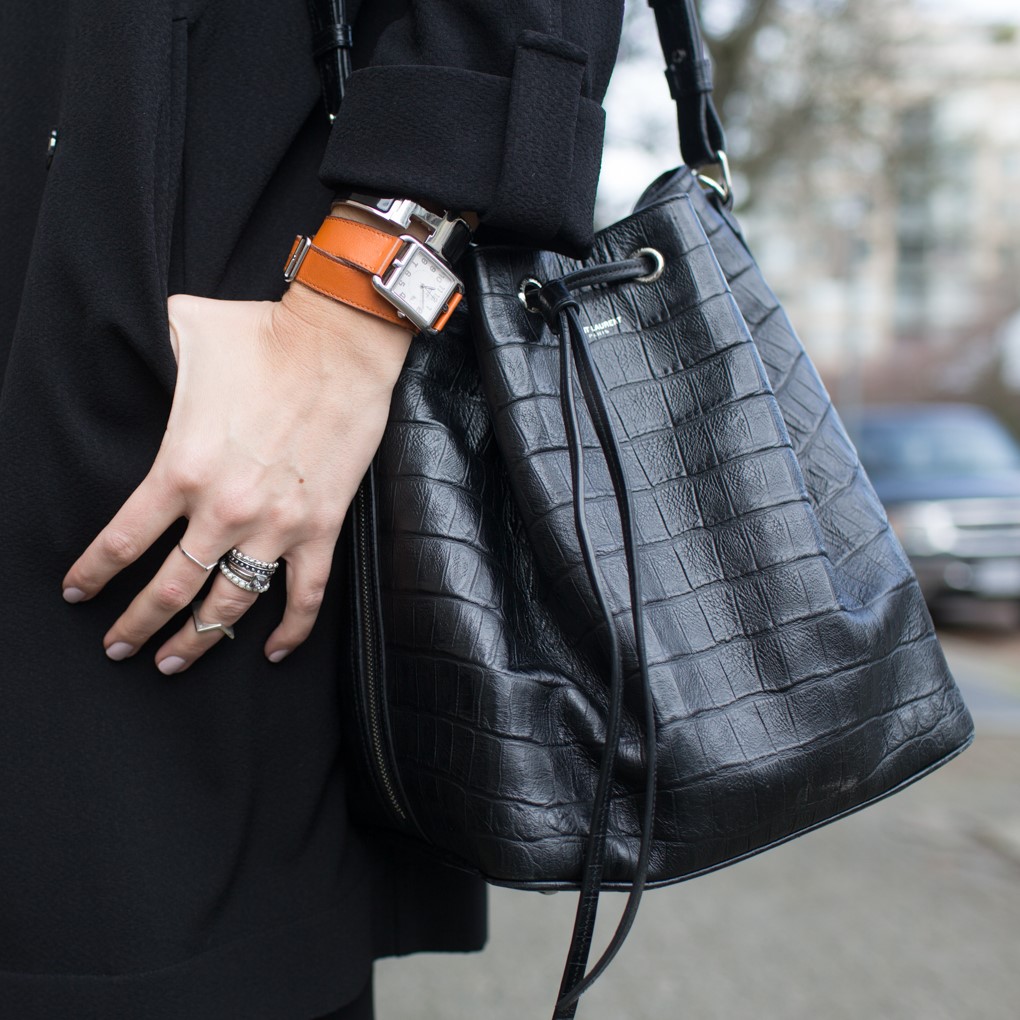 When changing the look from day to night- I just change my purse- I love the new Alexander Wang Prisma Sling–  and also change my shoes into these amazing fringe heels by Maison Martin Margiela that I got from The Room. I have had these heels for a couple years now and they still look good each spring.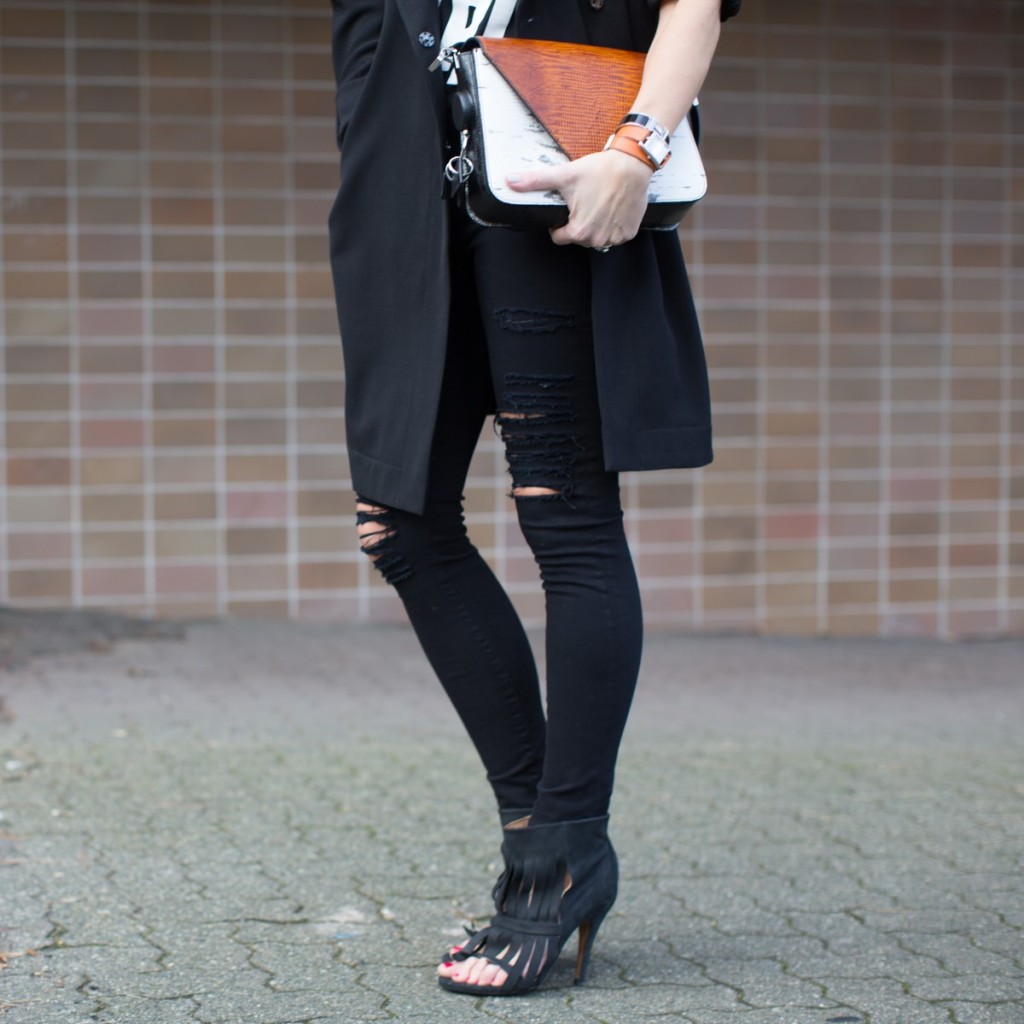 A little bling is always good for night too- adds a little dimension to the high neck of a t-shirt. I always wear this necklace with many different outfits because it is  one of my favourites. I'm into favourites. It's Erickson Beamon, a great brand if you want a little bling.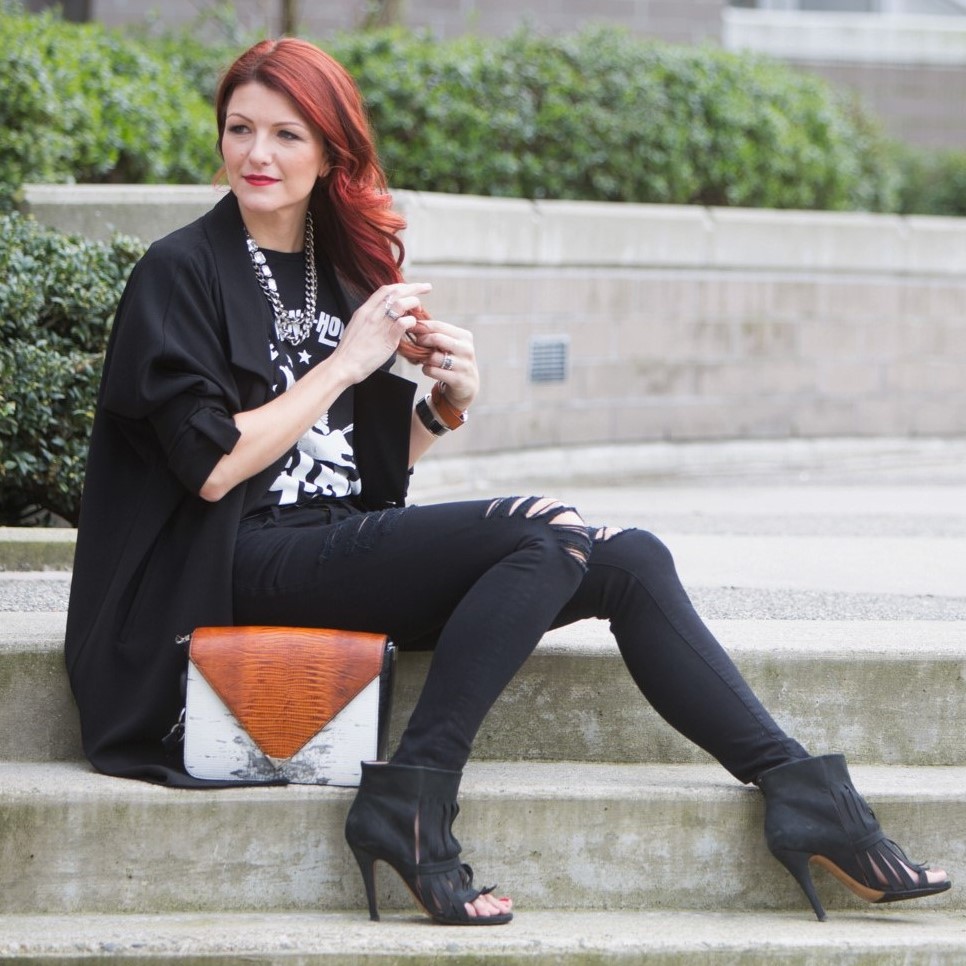 Let me know if you need a little help deciding which black item to keep this spring.
Photos by: www.angelahubbard.com