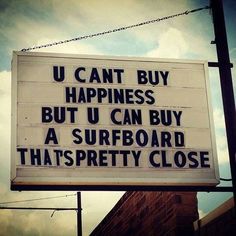 Travel: Santa Teresa | Nosara | Costa Rica
Time has slipped by and it seems that our spring break adventure is a distant memory now, erased by the constant rain that has engulfed Vancouver.  BUT I do have to say that there is no time like the present to book your next holiday and I highly recommend Costa Rica.
In case you ever wanted to go to Costa Rica I wanted to share our adventure so you will know all the good places.
Side note: if you were hoping that I was a good photographer, think again. It's basically a blog about travel tips with bad pictures. I will work on this the next time I go away, I promise.
Here we go:
First we flew to LA and surprised Stella with a day in Disneyland.  The flight to Costa Rica is about 8hrs plus so we wanted to break it up a bit. You can fly to LA (2.5hrs) and then direct to Liberia (4.5hrs).
Stella was brave enough to go on the rollercoasters this time. Our experience at Disneyland was so much better than when she was 4.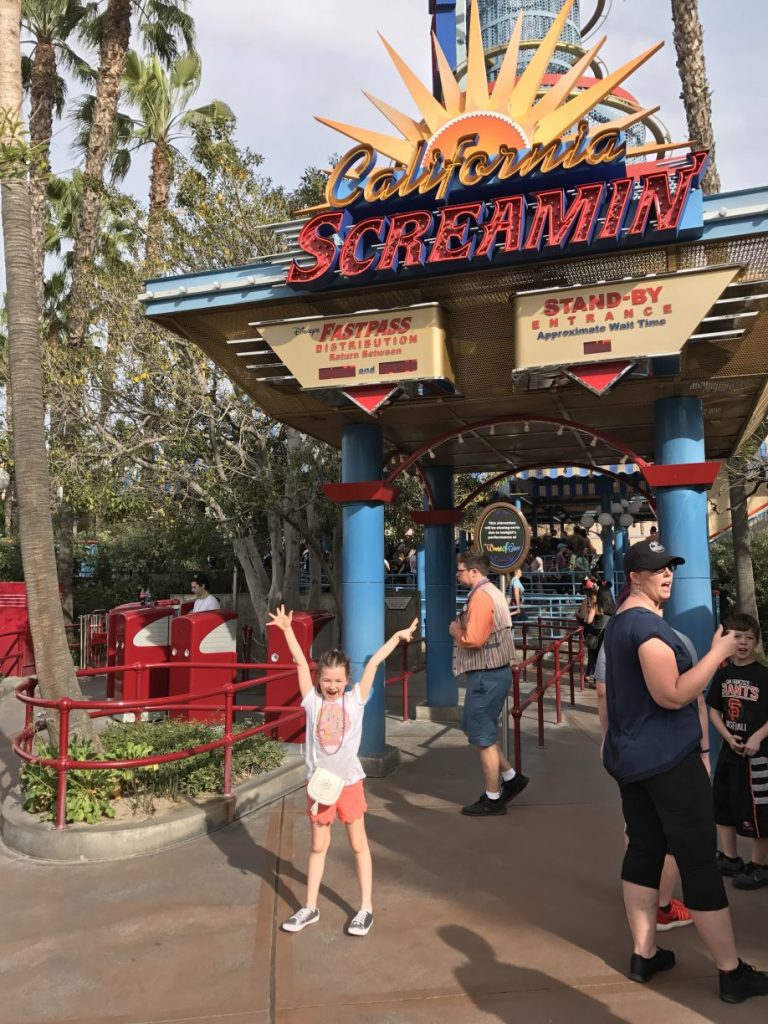 I mean, seriously, these girls wouldn't get out of my picture.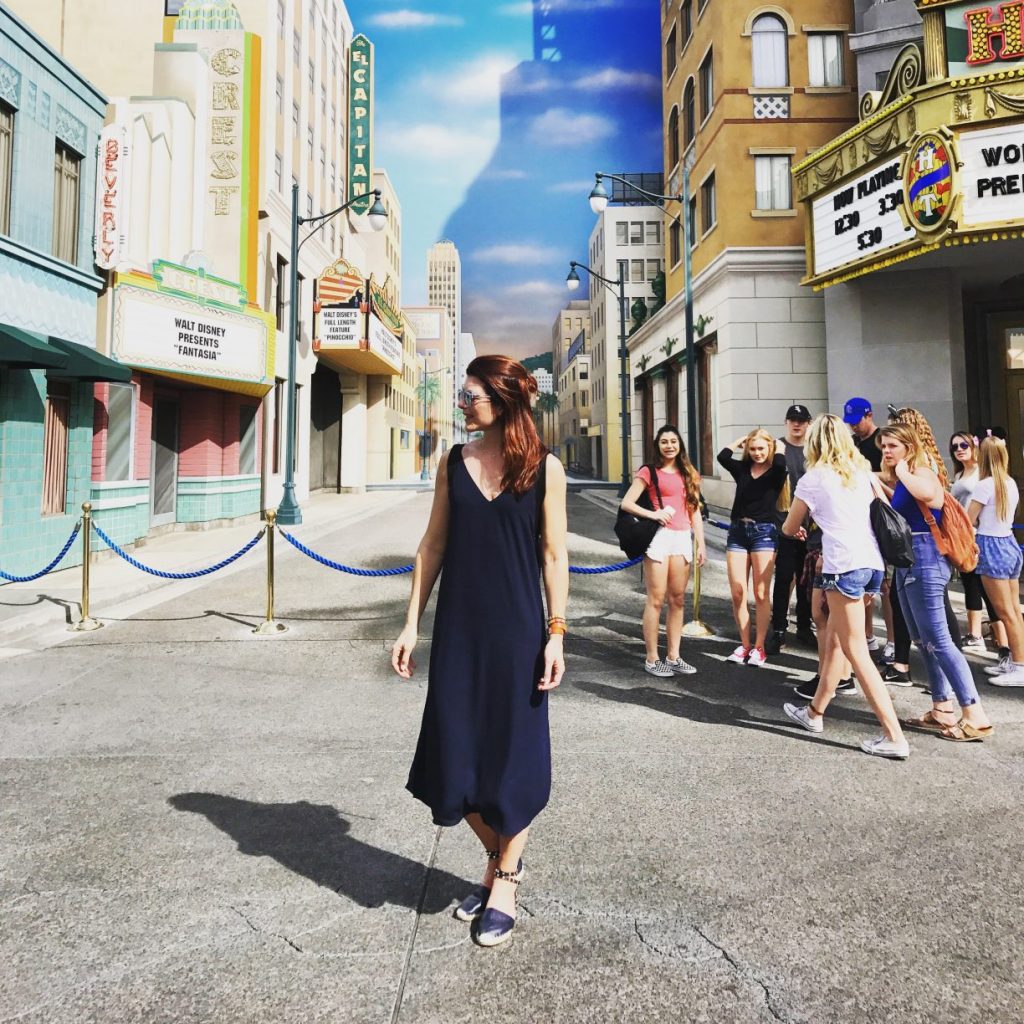 We flew out Saturday bright and early and landed in Liberia.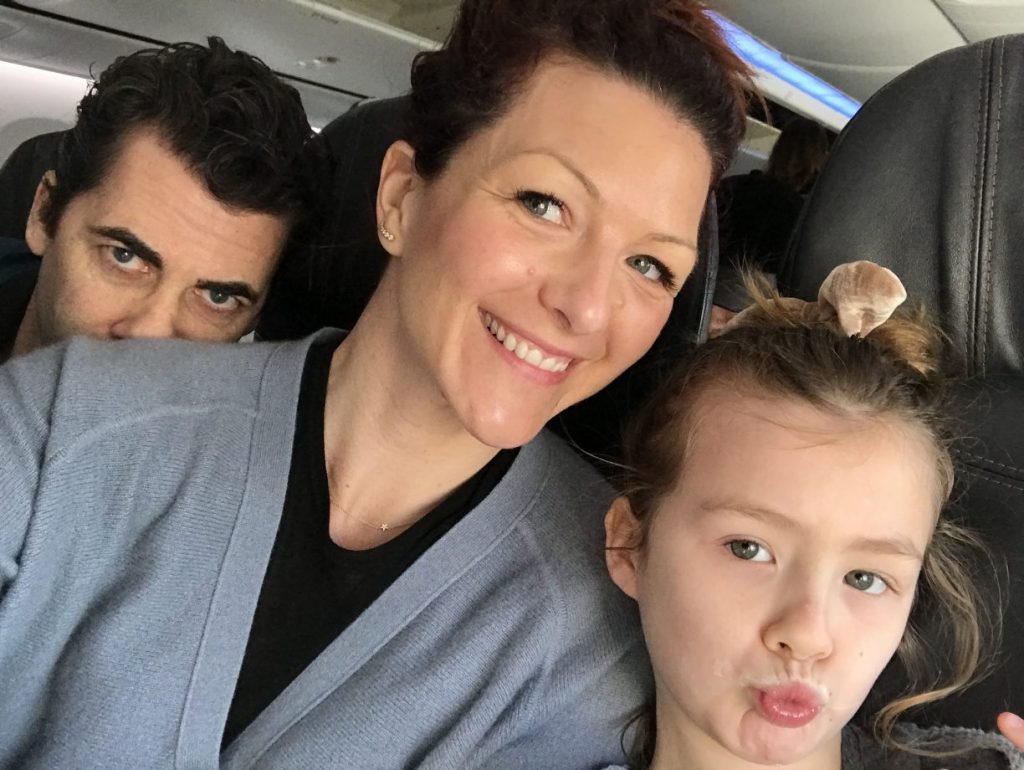 From Liberia we went to stay the night at The Andaz Hotel which was about 45 mins from the airport. Loved this hotel, could have stayed here for a week. Luckily we didn't because it was going to get much better.
The next day we drove 5hrs through dirt roads, rivers and a ton of potholes to Santa Teresa. Santa Teresa is a  a hippy town with many young backpackers, yoga students, families and ex-pat surfers catching the perfect waves that line the main beaches. We stayed at Mystical Green Properties. It was a spectacular setting on the hill over-looking the beach, the individual suites were modern in design but for the luxury prices they had none of the finishing details that would have made this place sooooo much better. Hopefully the details will get better because it is an absolutely stunning location.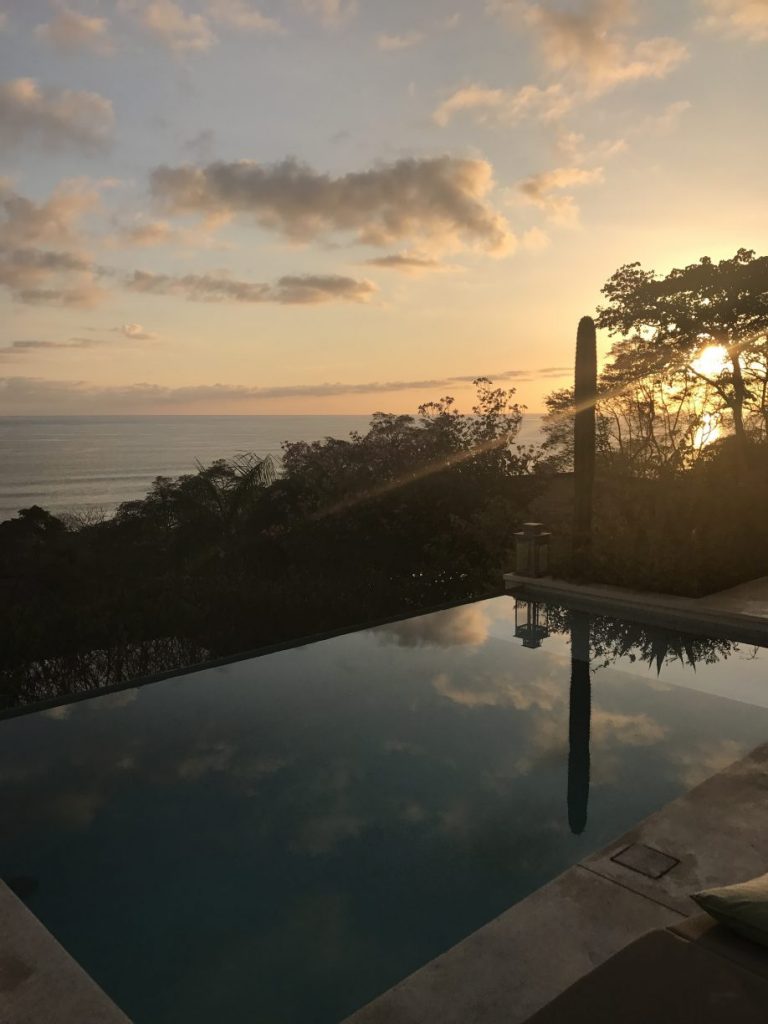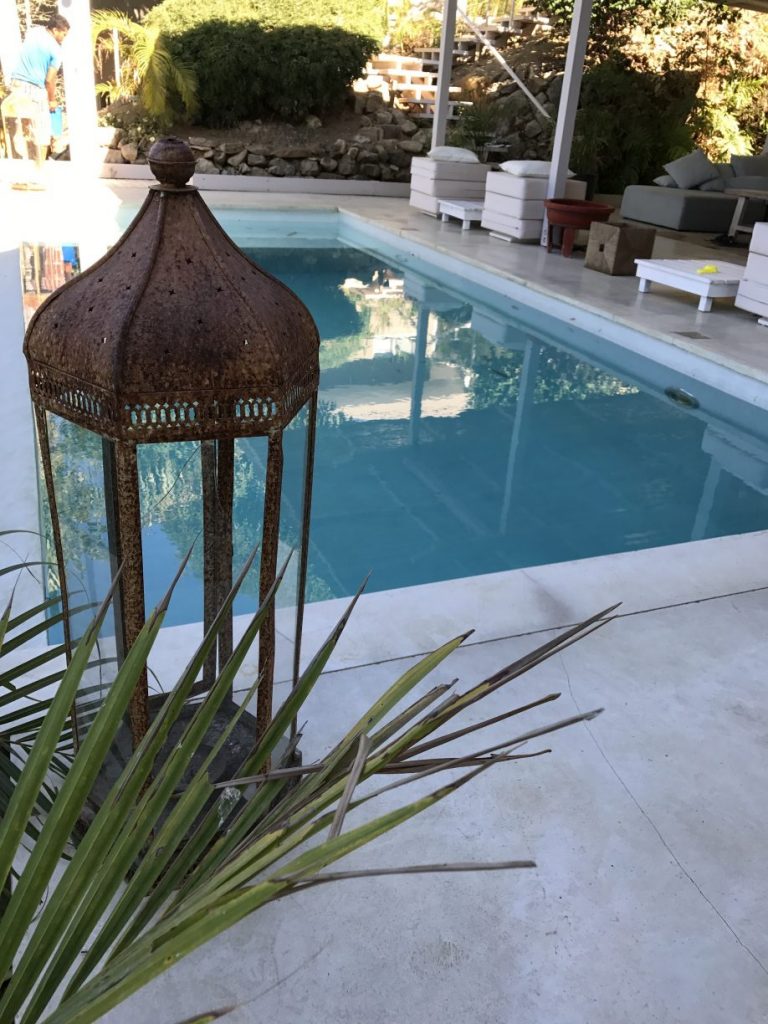 There are so many good restaurants in Santa Teresa. Here are a few that we went to: Cafe Social– we had breakfast here everyday as it was just down the hill from our place- super healthy and fresh, Koji's – really good sushi, The Bakery– great lunch spot- extensive menu- all fresh and healthy, Olam– the vegetarian restaurant in the Nautilus Hotel- great for breakfast/ lunch not so much for dinner. Nectar at The Florablanca Hotel- nice place for a special dinner- get the warm cookies and ice cream for dessert. The hotel looks amazing too.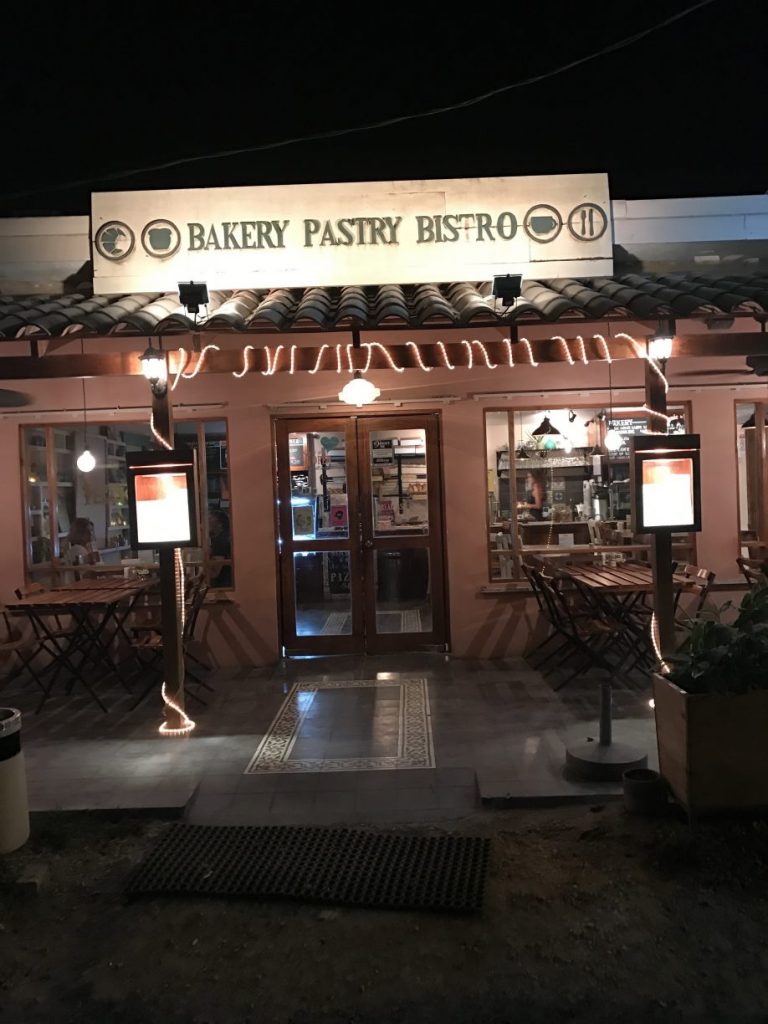 I did yoga here almost everyday. Beautiful space in open air.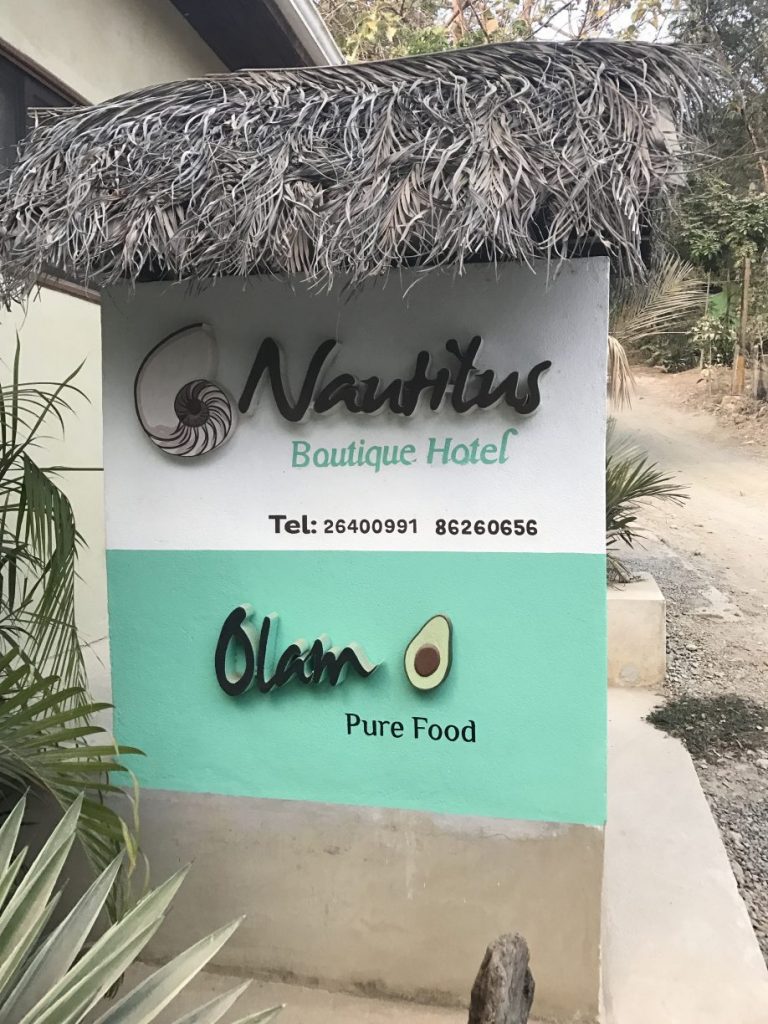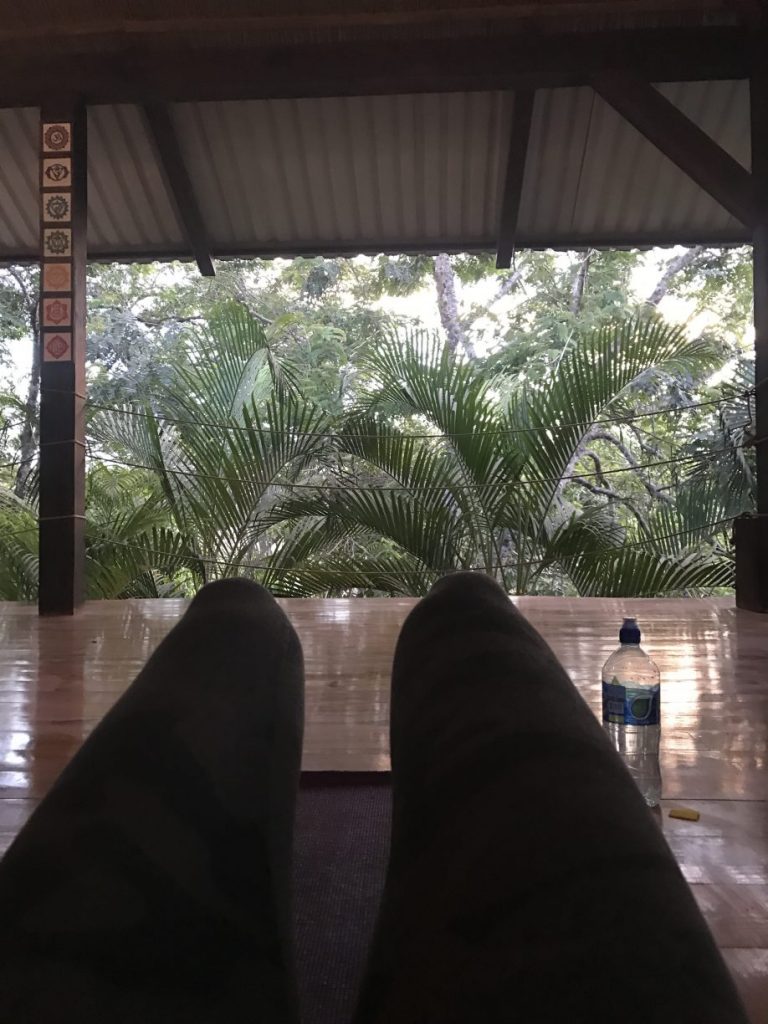 We rented ATV's and went to Motezuma Falls. Super fun, bring a scarf for your face as the roads are really dusty.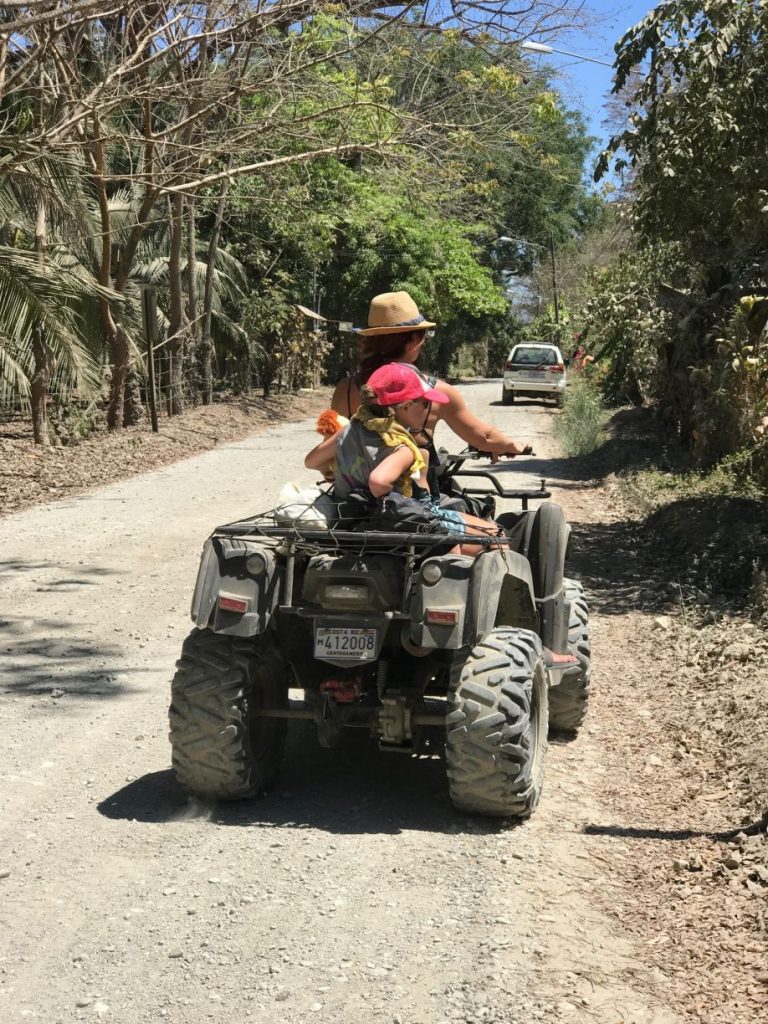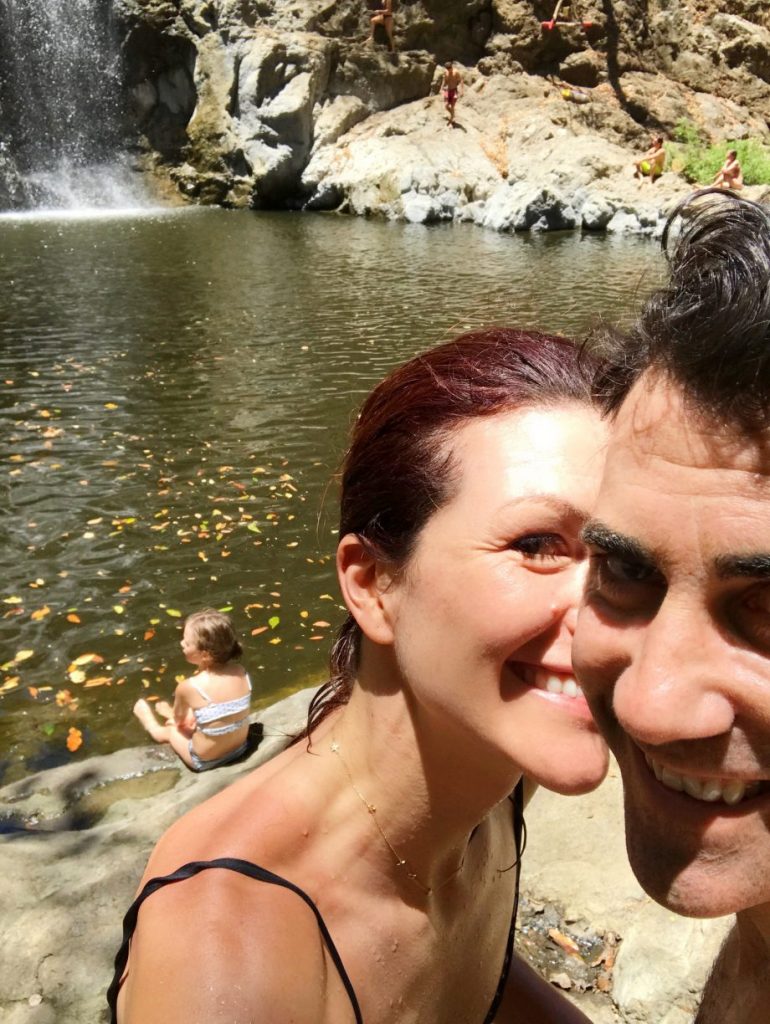 Stella and I both took surf lessons, from a local surf instructor named, Riccardo. His surf shop is beside Cafe Social.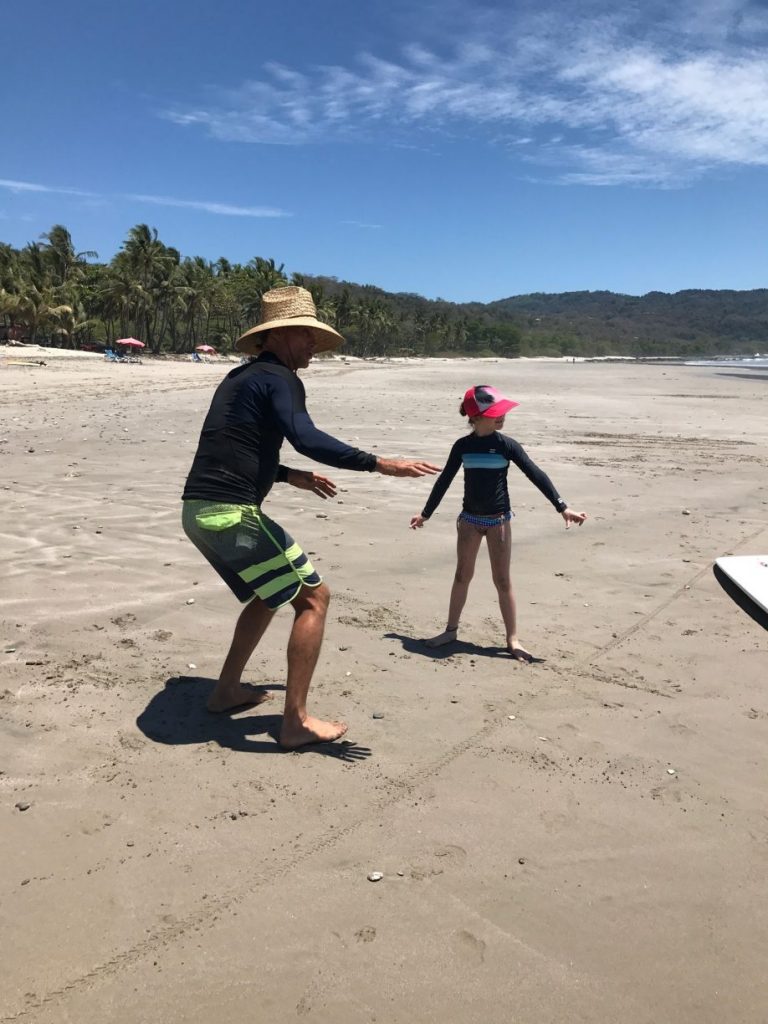 The sunsets were spectacular. Pink skies forever.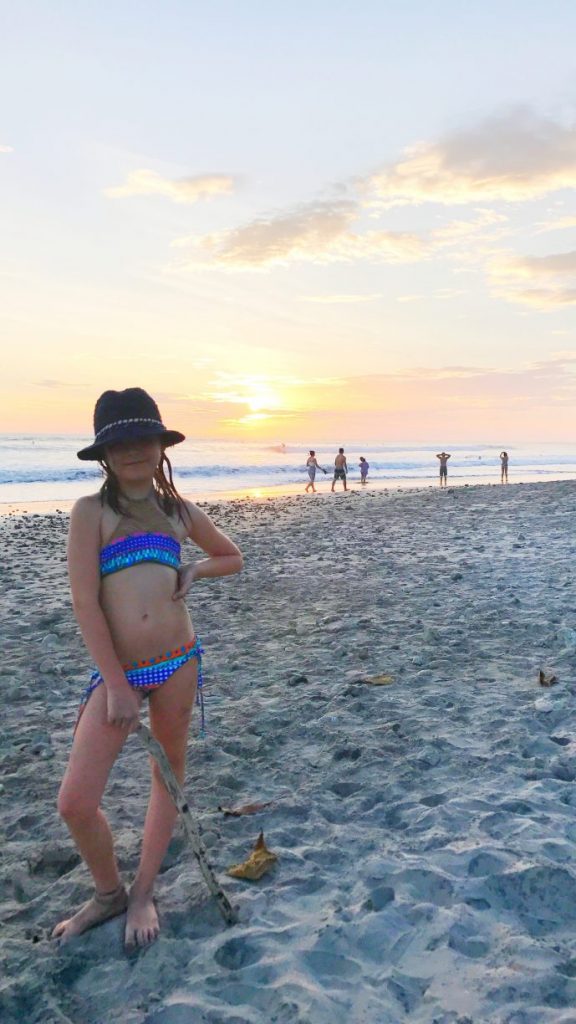 Loved my L Space bikini that I bought at Turf before I left. In fact I only needed to bring bikini's as it was too hot for clothes. In another life I want to exist in my bathing suit on the beach.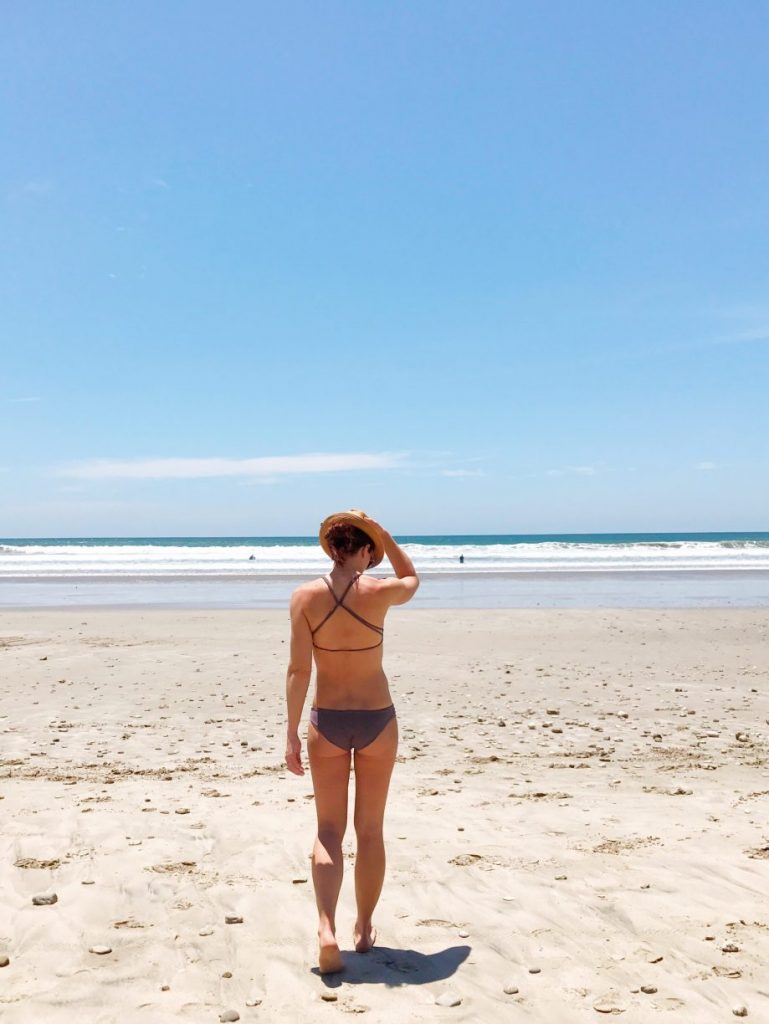 Mark surfed every morning and almost every night.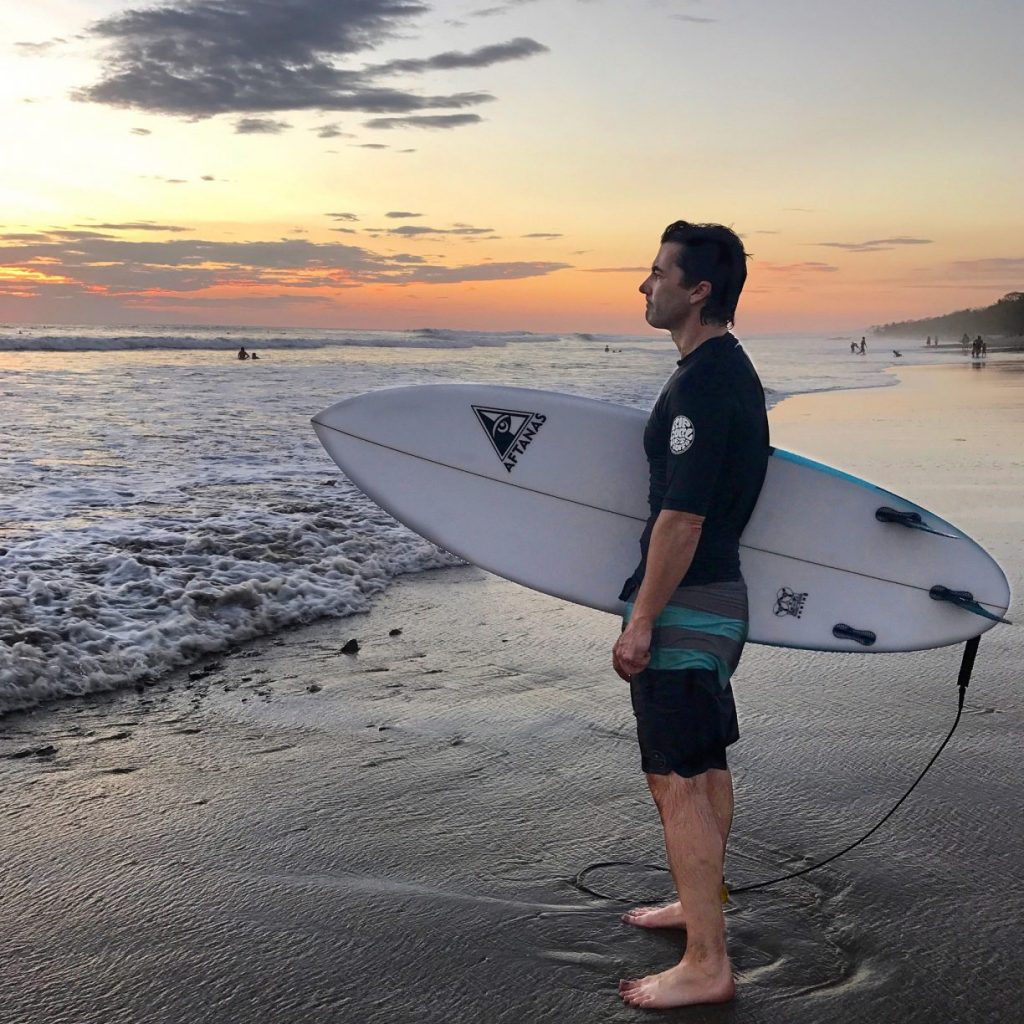 It was hard to leave. I actually read a whole book. Shocking.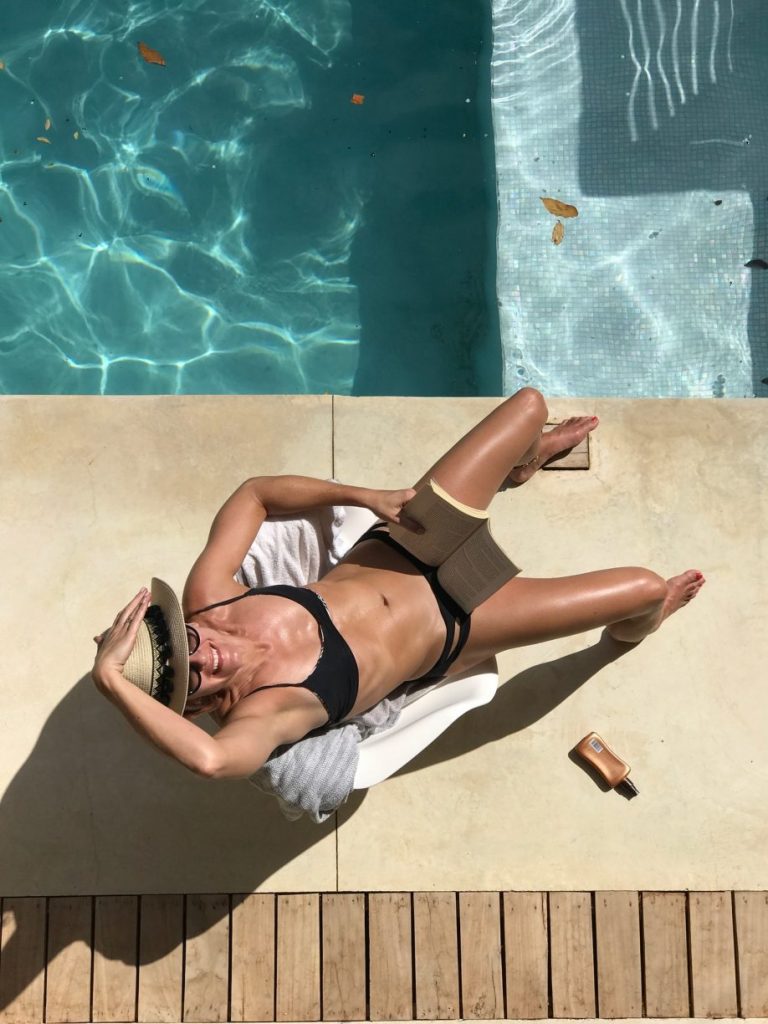 Stella fell in love with this adorable dog named Missy.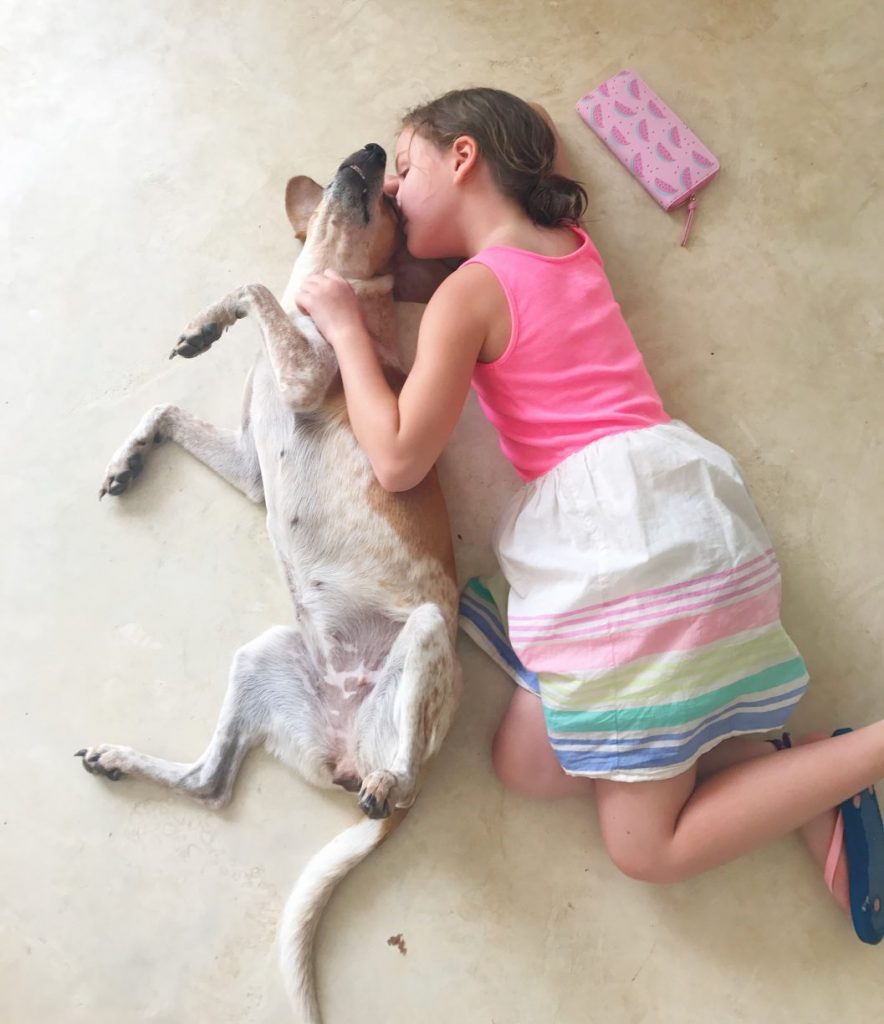 The beach parties at Rocamor were kinda fun too. Except when the weird guy with with his fanny pack and speedo started rolling a joint in front of Stella…not that kind of Mommy buddy.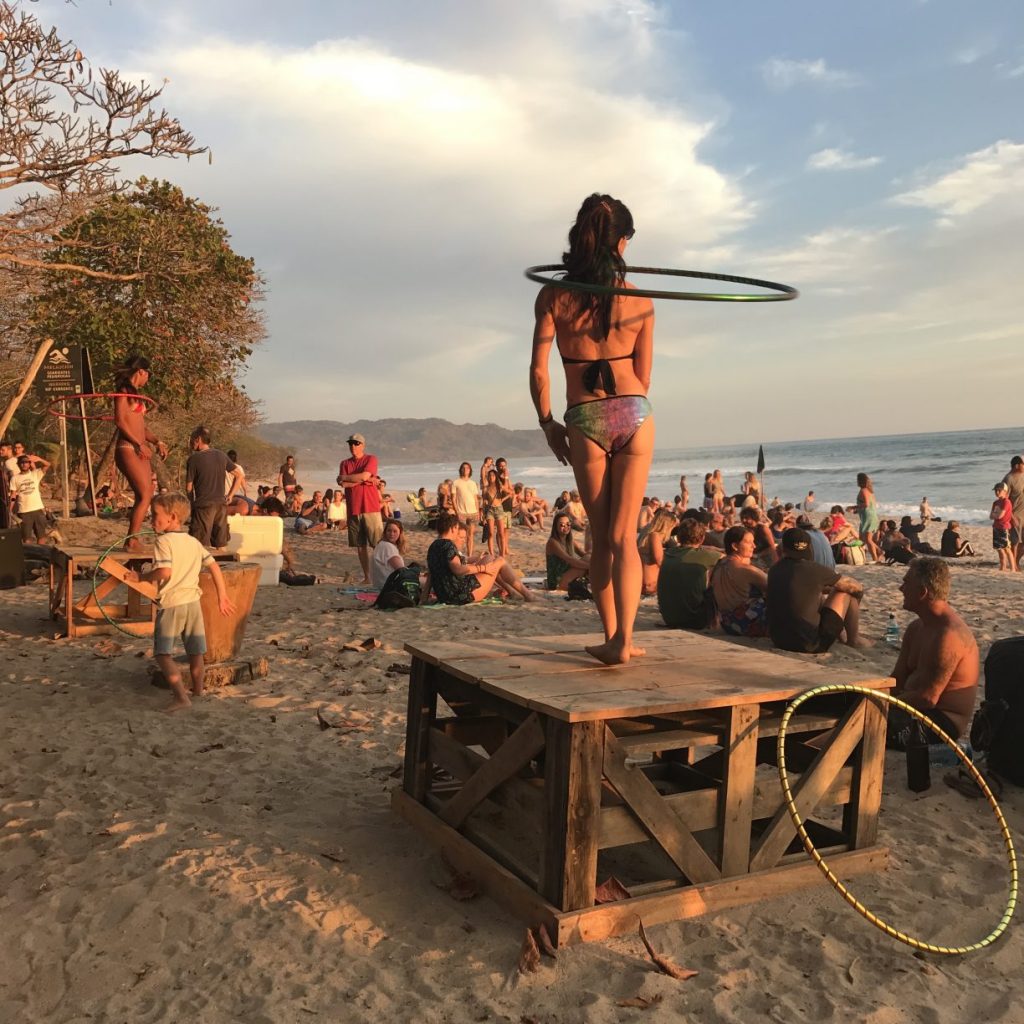 We left after a week of bliss and drove to Nosara. Thank goodness we had rented a 4 X 4 because the roads are not paved at all. We were randomly given a Rav 4 but if I did it again I would up-grade to the 4 Runner.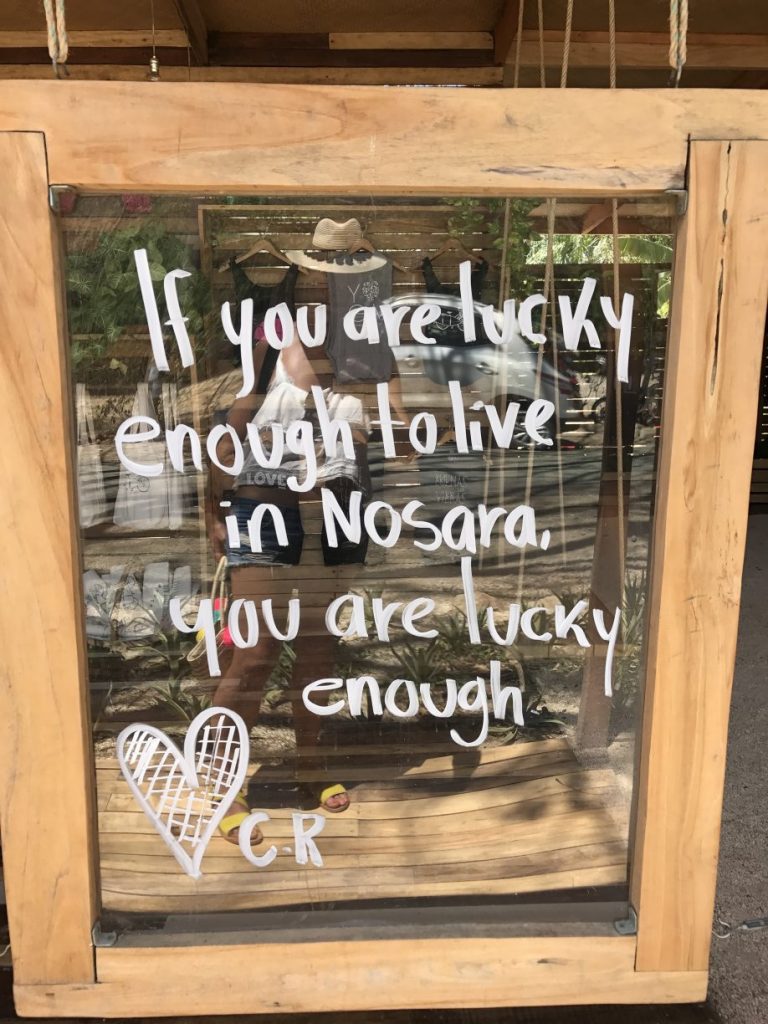 We stayed at Olas Verdes, great family friendly hotel with lovely staff. Just steps away from the beach and there are surf lessons and rentals available on-site. There was also a great day-camp called Nosara Day Camp just 5 minutes from the hotel, Stella wanted to hang with some kids and the 8am-1pm time was great to get to a yoga class or have a leisurely breakfast with just the two of us.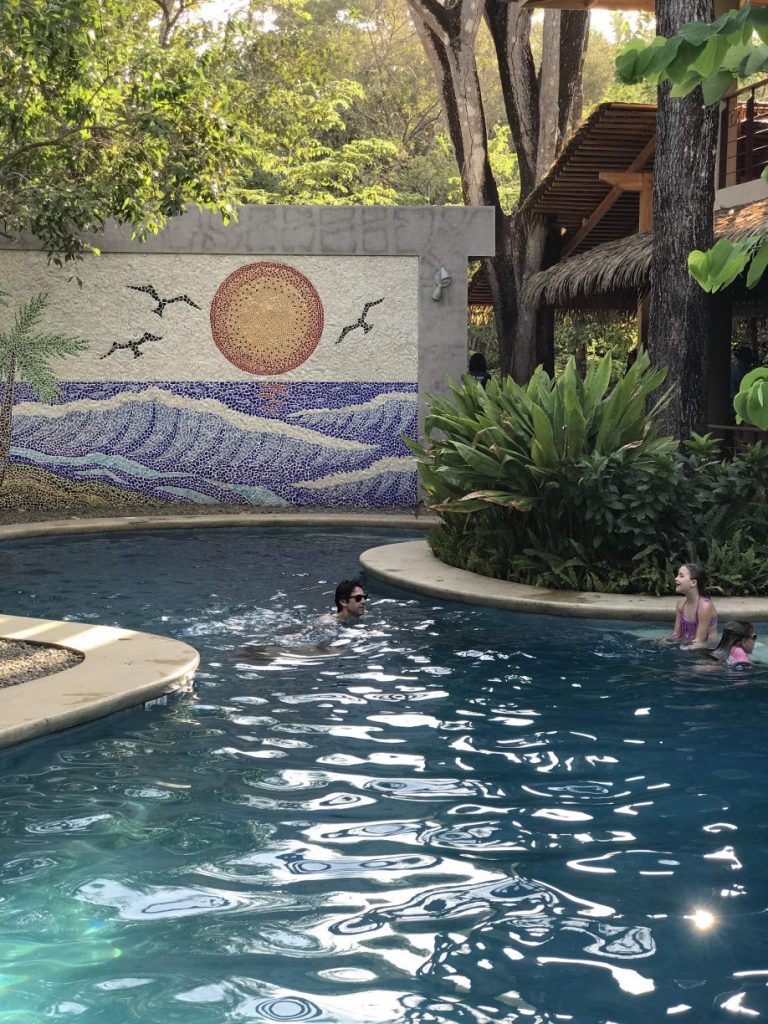 The hotel had bikes you could borrow to ride around town. FYI: Stella prefers hand-brakes and will never ride this death trap again.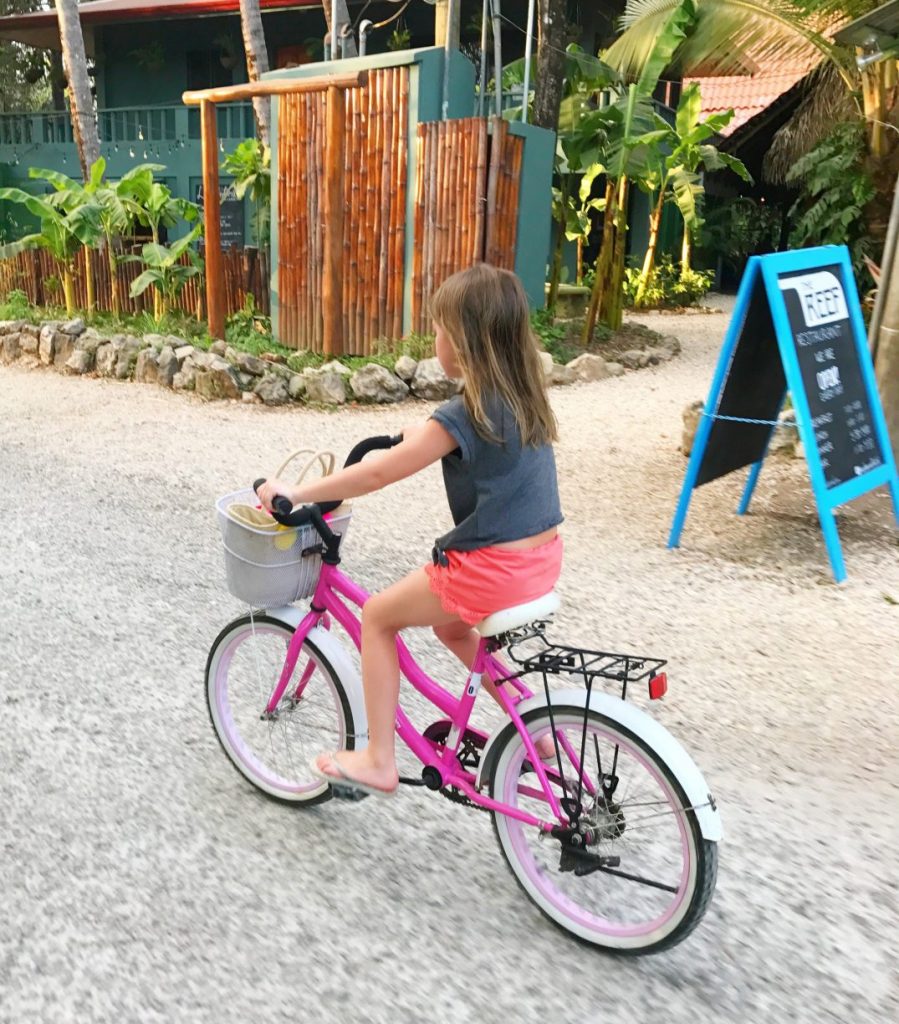 I adored Nosara, the sunsets, the water, the heat, the little shops and fresh coconut water for sale on the street corners.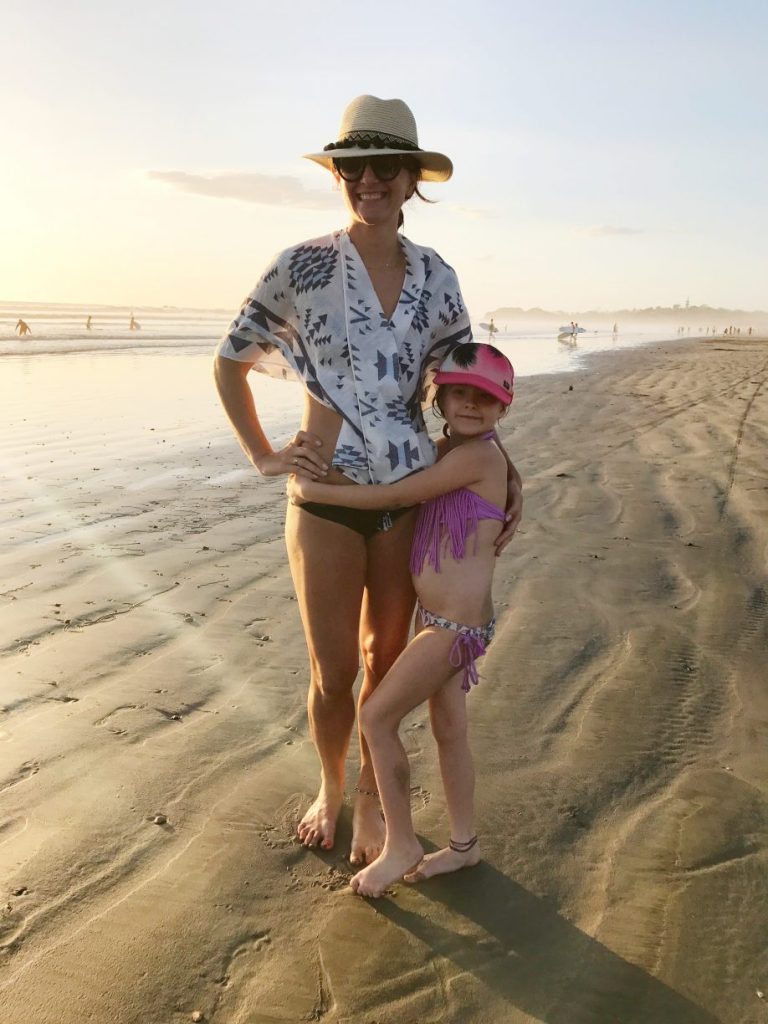 We ate almost every night at The Harmony Hotel (Olas Verdes didn't have a great restaurant). The Harmony Hotel had this super cool bookstore with slightly expensive items that we needed to "look at" everyday, till finally deciding on $35 usd felt pens that I know for a fact she used only once. I would stay at The Harmony Hotel if I went back and if they actually had space…it was quite booked.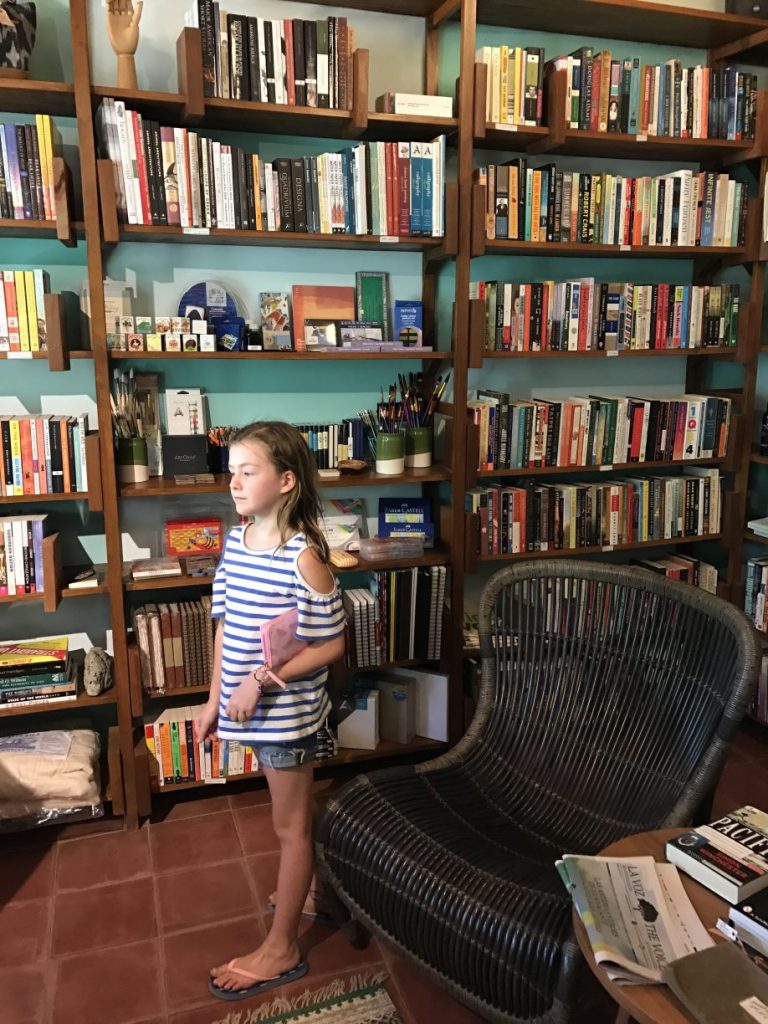 We surfed some more… the best thing about the beach in Nosara was that the waves were perfect for every level, smaller waves for beginners and larger for more advanced. The shore was sandy so you didn't have to worry about a reef scratching your body when you fell.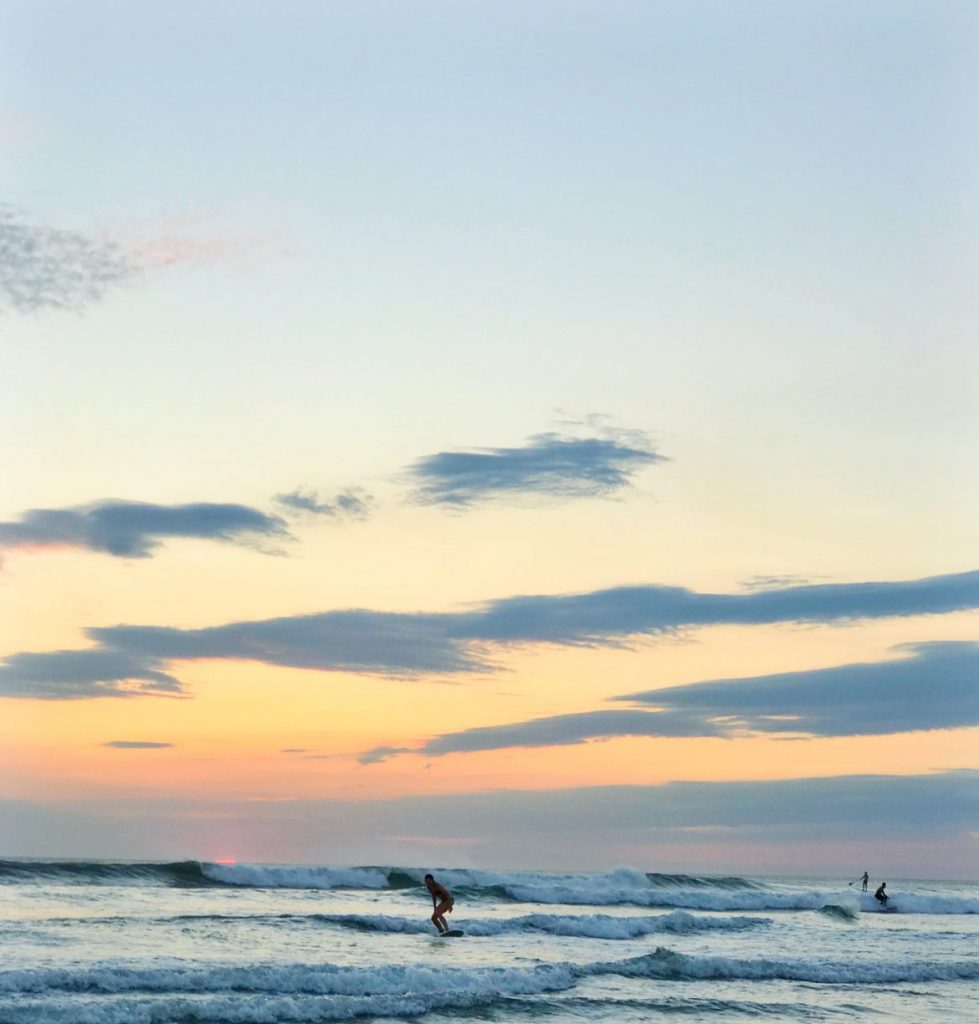 We ate at so many great restaurants, my favourite being La Luna. But La Casa had a cool boutique that only opened when the restaurant opened and El Chivo had great Mexican food. Nosara is filled with juice bars and healthy restaurants. Heaven.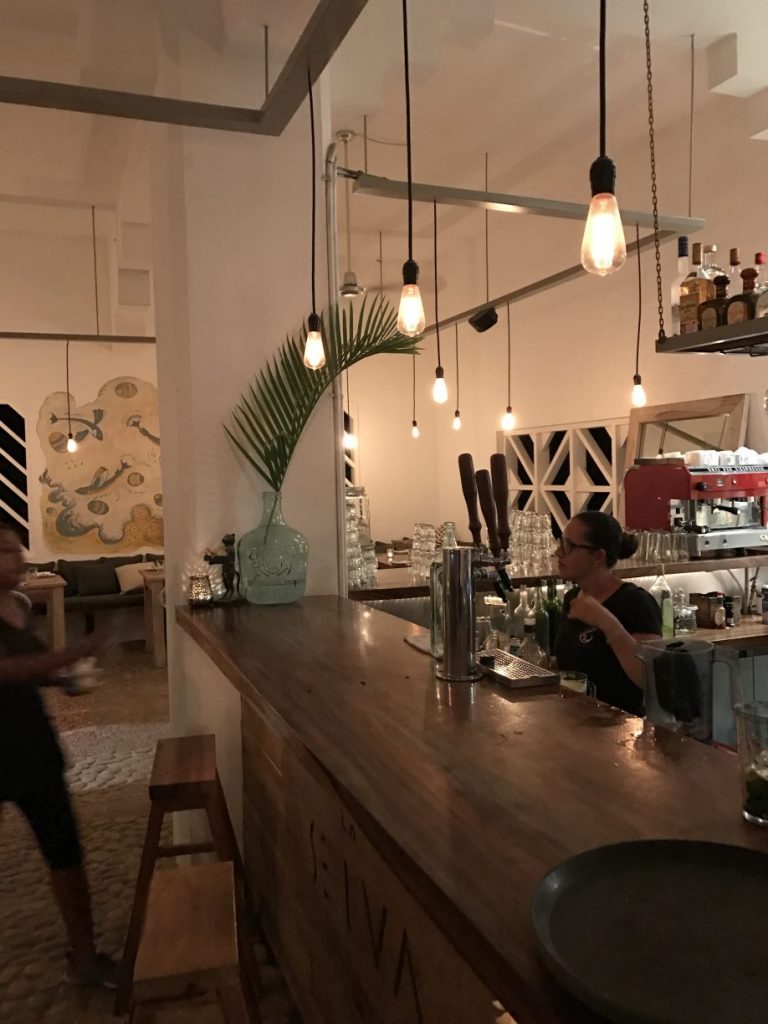 Wore this Free-People dress throughout my trip it was a perfect piece as it was light-weight.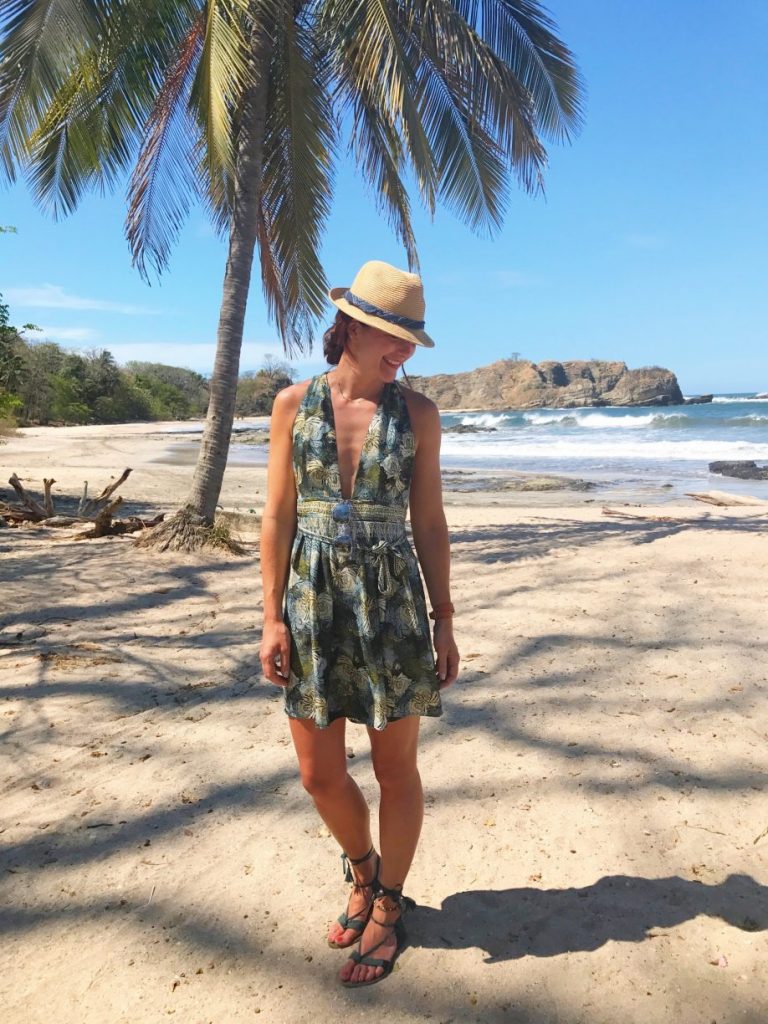 We took a day trip on one of our last days to Samara- about 1hr out of town. Wherever we went they had pasta on the menu for kids. Gusto Beach was no exception.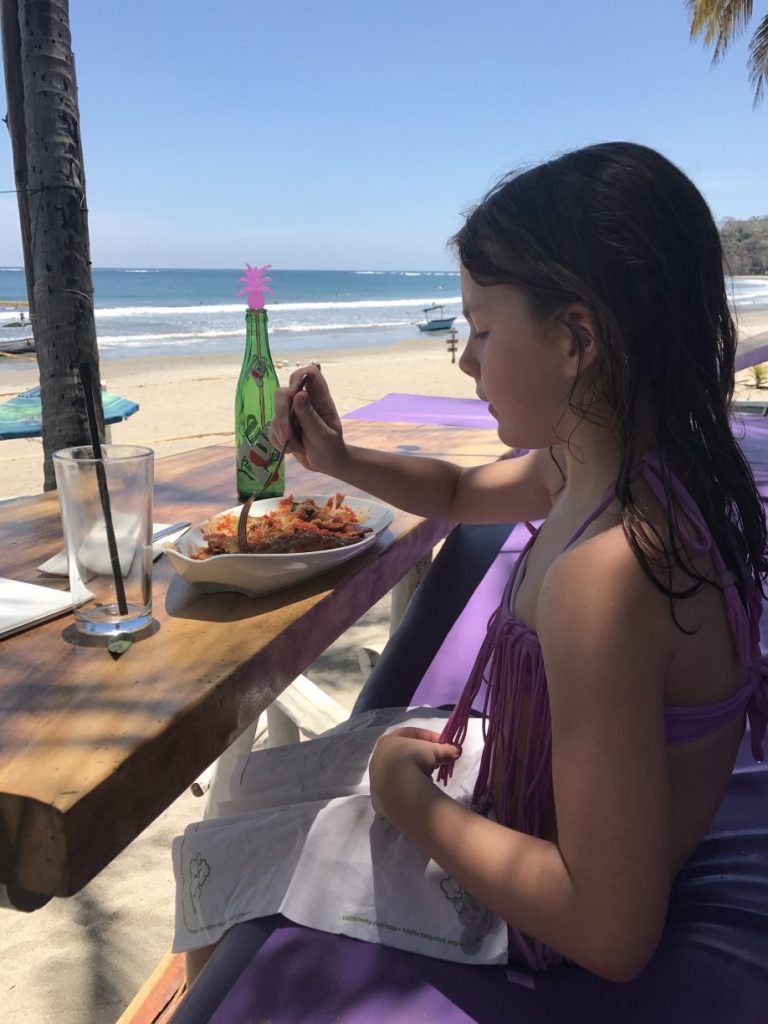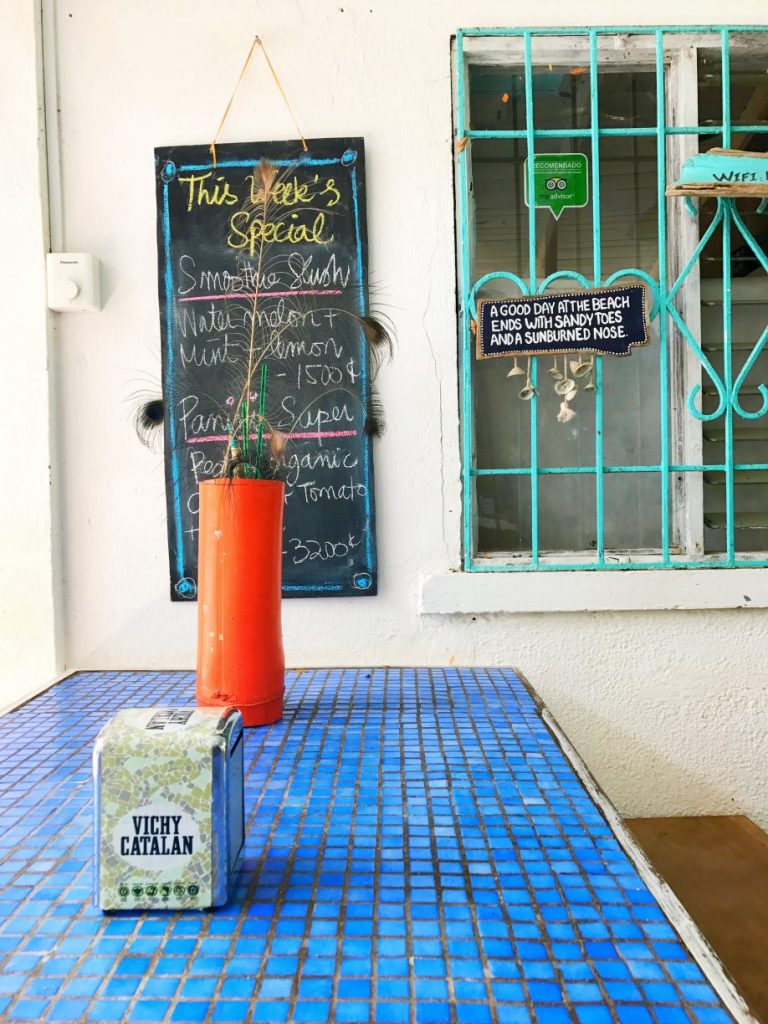 I bought the hat in the pic below in Santa Teresa, most of the shopping was not that great but a good tip is to go into the nicer hotel gift shops, they usually have the best selection of local artisans and better quality. That being said there were two lovely shops in Nosara the first called Love Nosara, perfect for t-shirt souvenirs and cute organic cotton dresses. I also bought a beautiful dress at Bazzar Nosara– they have two stores one across from The Harmony Hotel and the other in La Casa (the restaurant).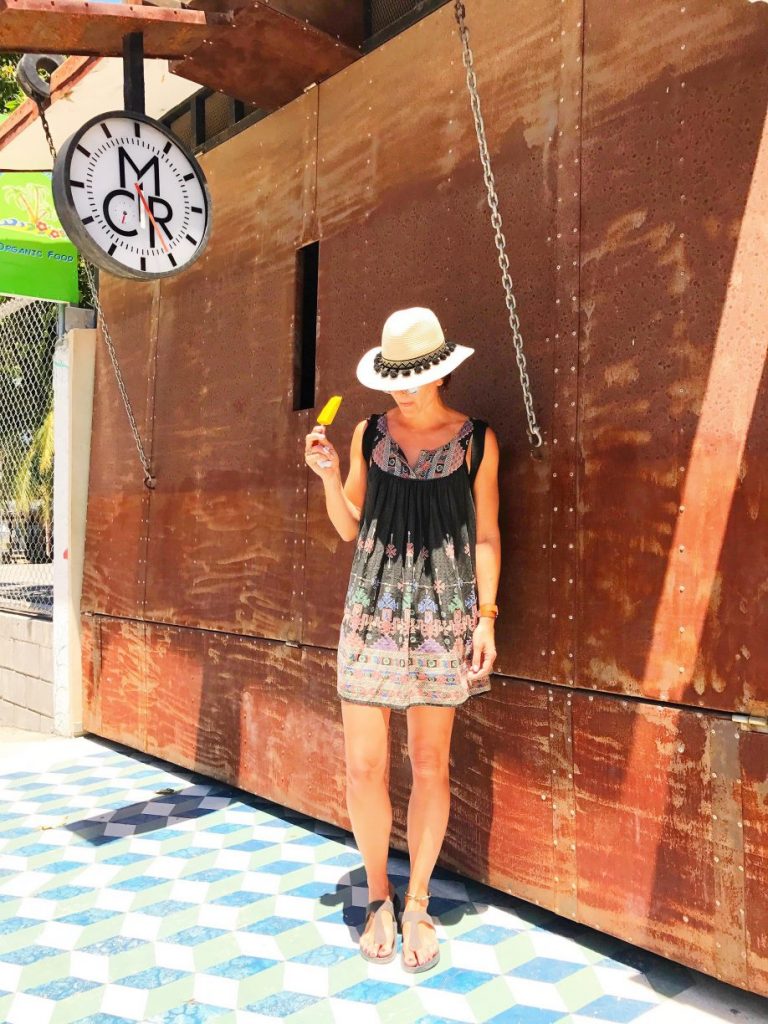 I need to go back, if only to wear this dress again!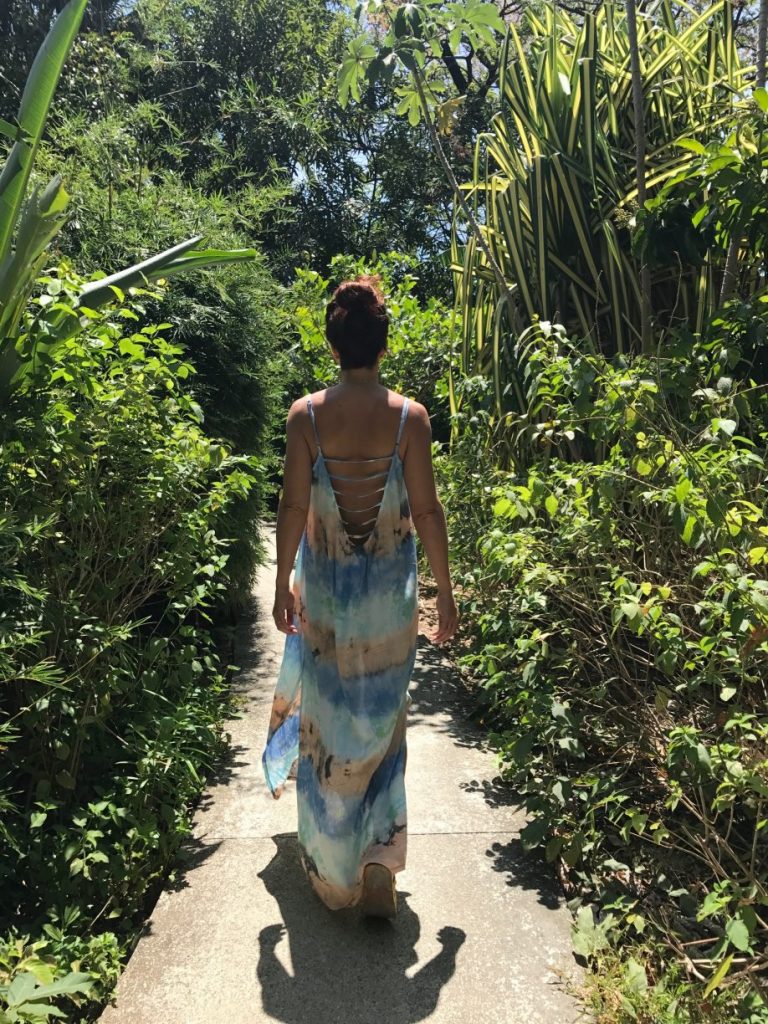 The best part of the trip was having my two favourite people hold hands on the way home.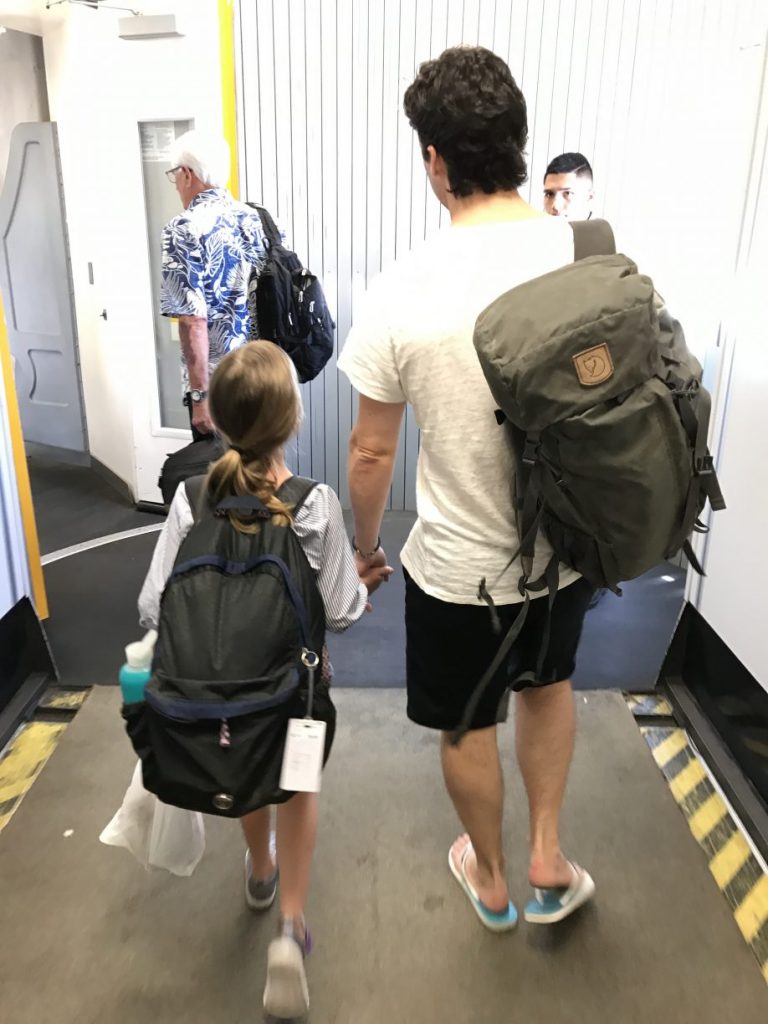 Not sure what our next adventure will be but Mark assures me that there will be more surfing 😉