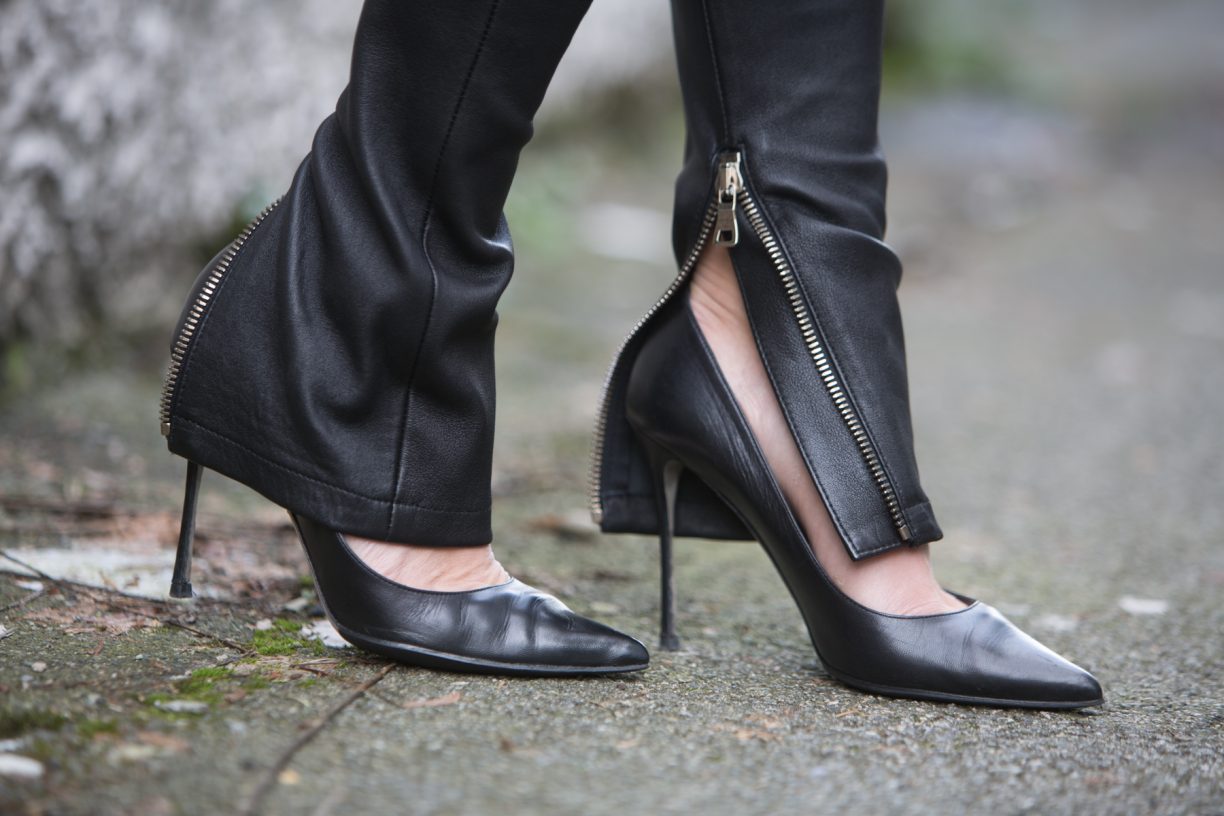 Not a Park Outfit: Balmain
So this week I thought I would do a dressier outfit. If you are like me and have all these lovely clothes it might be a good idea to go out sometimes- you know- to feel fabulous and then go home and watch House of Cards. Speaking of going out- have you tried AnnaLena yet? It's my fav new place in Vancouver. I was really hungry after I was surprised with Flying Trapeze Lessons on Saturday and AnnaLena didn't disappoint. Ya, flying trapeze lessons- isn't that a great date idea? Mark hit it out of the park this time. I digress, I have said many times that my favourite power piece is my Balmain blazer and this is a fact. It's important to have a piece in your wardrobe that makes a good impression. I would suggest a kick ass blazer. In this case I am wearing Balmain leather pants as well as an amazing Balmain blazer. My silk tank is from Aritzia (I needed to save somewhere). When doing all black, accent with your jewelry. I choose an Aurelie Bidderman gold cuff and a Jennifer Meyer star necklace and various gold rings.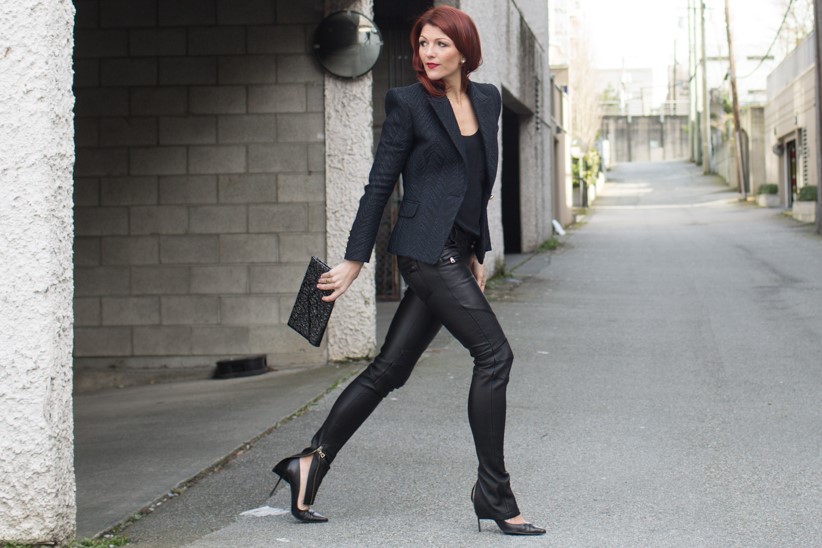 The thing about having leather pants is that they will change your life, for the better. Balmain pants are notoriously known for being low-rise. This is a hot look but it doesn't give you much coverage for your love handles. The silk tank underneath is a little baggy as to not show every little thing. I really like Helmut Lang, Vince and Barbara Bui for other great leather pant options that are not as low rise. Trying a few different pairs on will help determine what rise is best for you. I also love this Alaia clutch. Do you have a great envelope clutch yet? Great for evenings out and less bulky than your purse.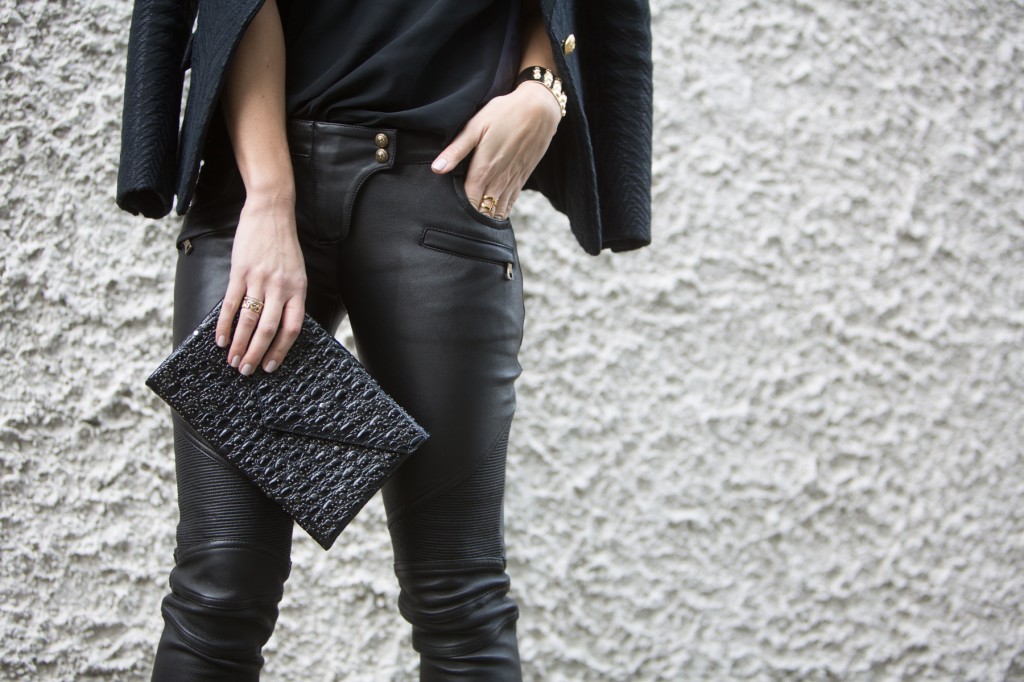 The zipper open on the bottom?…I mean come on! Sergio Rossi heels, my absolute favourite for comfort. I'll take those over any Valentino heel any day. Pointy toed heels are here to stay, if you haven't jumped on the band wagon yet, you can now.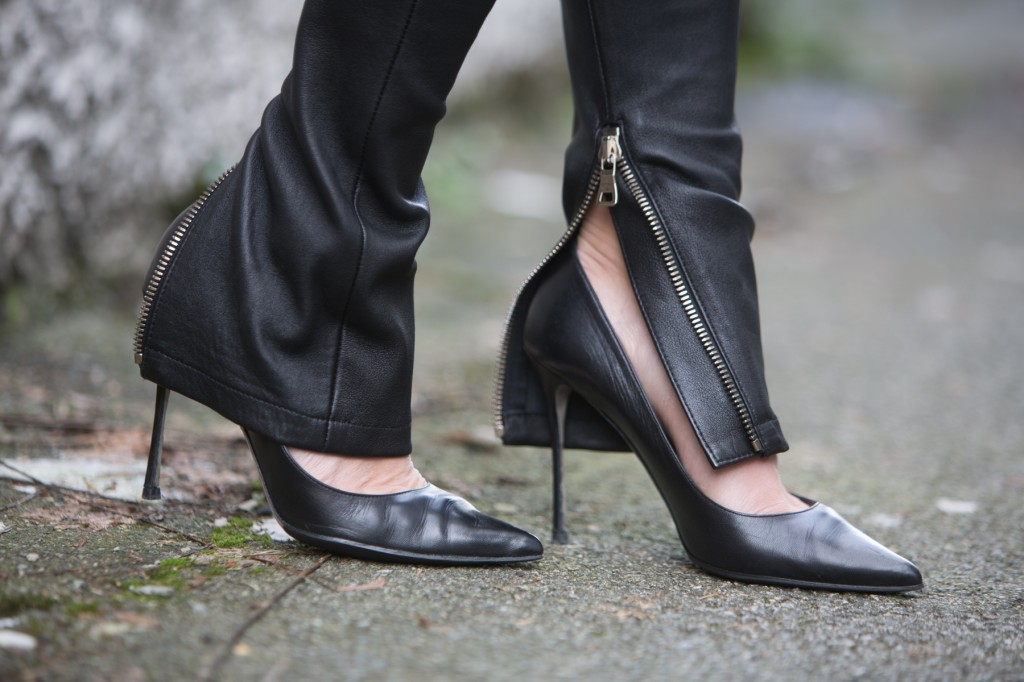 Love the idea of wearing cuffs to match the buttons on the coat and pant, I am not afraid to match…not at all.
I also love this little Comme de Garcon's sweater I got at The Room when it first opened in Vancouver. I have worn it for years and it is easier to drive in than the blazer (blazer is a little fitted if you know what I mean). Celine sunglasses.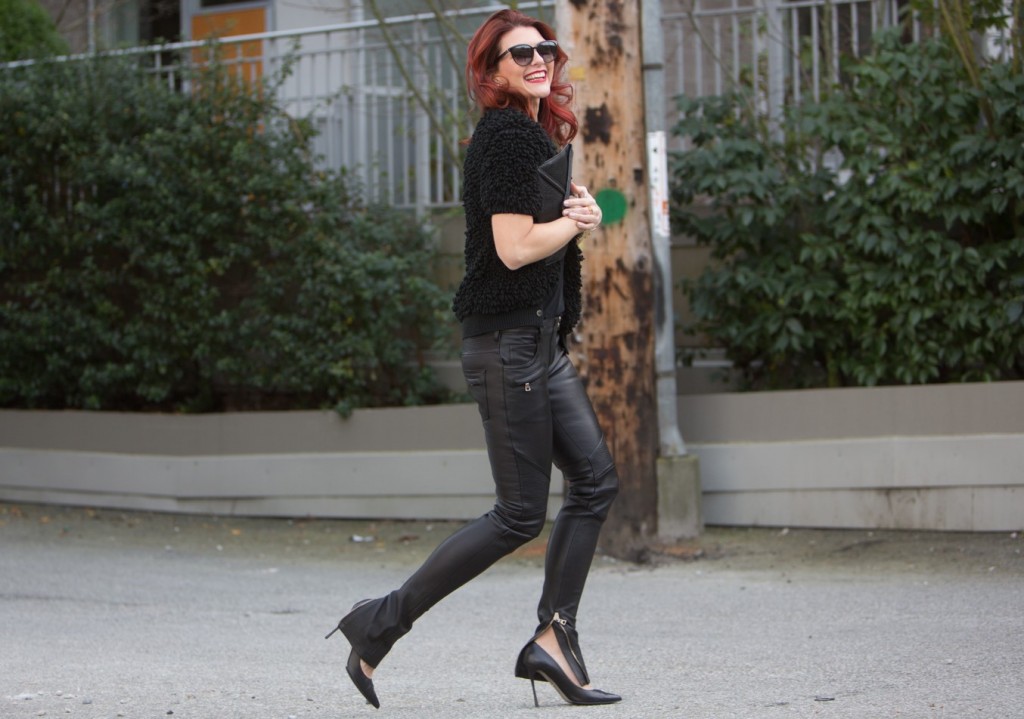 Find Balmain at The Room in Vancouver or just ask me and I will find it for you.
Photography: Angela Hubbard