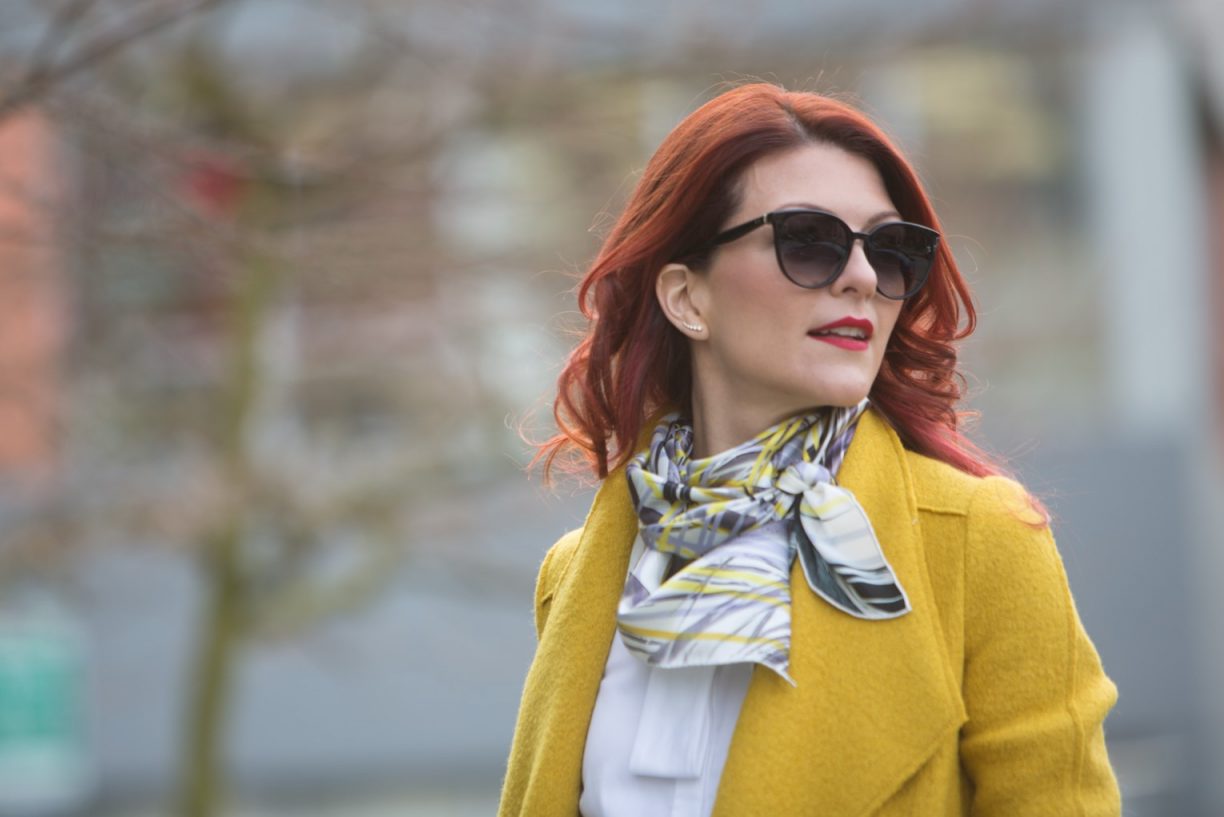 I love coats. Way too many in my closet that I refuse to part with. But I do like a little "cheap and cheerful" coat up-date every once in awhile, especially from Zara.
Again I went with an all white base (see last week), in fact I pretty much just switched coats, added a scarf and grabbed a different bag. I like wardrobes that are easy. This is for the days that I want to make a statement. I mean wearing yellow isn't "hiding". Jbrand jeans, Altuzarra blouse, Zara yellow coat, Dieppe Restrepo loafers, Alexander McQueen Clutch and Celine Sunglasses.
So, here's the thing with scarves, they are the best way to finish your outfit. This scarf is made by my beautiful friend Mona Sultan and I was lucky enough to style her spring campaign- check it out here www.monasultan.com. She asked me to help style the scarves…then I had to help tie them on a model, terrifying. I don't have formal Hermes scarf training. My friend Sarah Creedon does, and I am always impressed. Anyway, I did my best. I tie to the side, so that it's not all bunchy in the front. That is my secret. Now you know it.
I love rings too. I feel naked without them. The ones on the right are random rings that I stack with my mom's old wedding band and the one on the left is a blingy YSL gold one. I like a little bling, (once in awhile).
My earing is Sophie Bille Brahe. I want to do a whole blog on how awesome it is to wear un-matched earrings. This would be a good tip if you are a trainer or have to wear a work uniform, try an ear cuff to add a little style to your everyday wardrobe.
The loafer, have you tried it yet? A really good flat option. Dieppe Restrepo is a great shoe company with really well priced shoes. These were under $300. They sell them at one of my favorite stores in Seattle, Totokaelo (more on that store to come).